How to Play Casino War
By Alex Smith Jul 22, 2022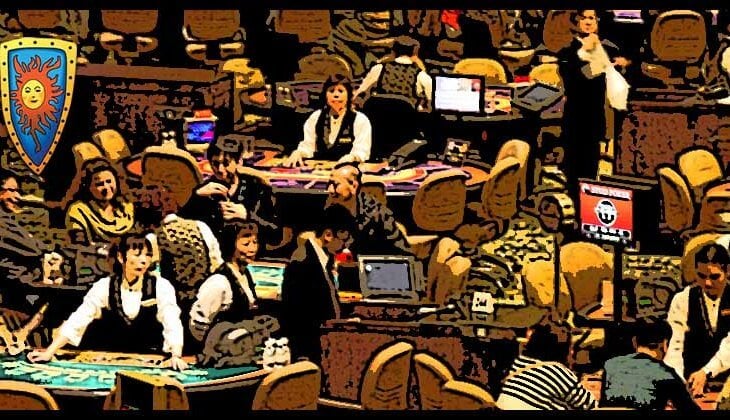 Casino War is a highly-popular casino table game you will find at many land-based and online casinos. This article will look at what you need to know before playing Casino War.
You can usually find Casino War under the "Table Games" section. When playing Casino War for real money, players can hopefully enjoy a novel card game while betting money to earn profit. Many players prefer to stick to the conventional game variation; however, Casino War has many fun variations to try. Also worth noting, Casino War is more accessible to play than Blackjack, 3-card poker, and Let It Ride, as no decision-making is involved.
The dealer and the player each have a 46.3% probability of winning with their first card dealt (in classic 6-deck games), so Casino War looks like an even-money game. If one of the cards each beats the dealer, the player wins the raise just by pushing their initial bet.
In the next section of this guide, we will look at the rules of playing Casino War.
How to Play the Casino War Game
After you place your initial bet (wager), the game begins. Initially, all players and the dealer receive a single dealt face-up card. You will then notice that three cards are dealt to the player and Dealer with an extra card.
Suppose the player continues playing (i.e., if you like your hand), and the dealer burns (discards) three cards. Next, the dealer deals an additional card to each. Players can also place a tie bet if they wish. We will look at this in more depth later on this page.
If the player's card wins, the original wager is returned. If the game results in a tie, and you have placed a tie bet, your bet will be paid out at a rate of 1 to 1; any ties wagered are lost. If a player wagers on the tie and their card matches the dealer's, the player wins 10 to 1 of their original bet as part of a side wager. If a tie is drawn, a player can either fold, losing half his wager, or go to war, placing another bet equal or more significant. In addition to their initial bet, players may also make a separate bet, tie, or bet their opening hand to match the dealer's opening hand.
Each player places a wager on whether or not their cards will match the dealer's cards by placing their chips into a betting area. The card's ranks are then compared. Any players with higher-ranking cards than the dealer win an even amount of money for their stake. Because six decks are required for Casino War, giving both player and dealer an equal opportunity to win a match, the player's odds of winning are 46.3% mathematically.
As mentioned earlier, you can play Casino War at both online casinos and land-based casinos. It's an easy game to play and understand. Once the dealer's card has been dealt, the game begins. You must place your original wager before the dealer's card is dealt.
Casino War Strategy
According to mathematical research, players playing Casino War only have a slight statistical disadvantage. Players will win roughly 50% of the time. The odds of Casino War are identical between player and dealer, around 46 percent. However, the odds rise significantly for the house in the case of war because a player has to place two bets to win the one.
Despite this, Casino War is one of the most accessible card games to play at the casino and is one of the only games in which the house edge is, essentially, negligible. This is provided you're not "going to war."
Casino War is straightforward, with little strategy or skill required. This makes it difficult to find it engaging over a long period beyond just the novelty of playing one of your favorite childhood card games for cash at a land-based or online casino.
There aren't any strategies; however, placing any bets on the "tie" option is not recommended. Side bet options may look appealing but usually have high house edges. Remember, the player loses around 56% of the time – so don't expect it always to be a 50/50 game!
What is a Tie Bet?
The optional tie bet is an additional bet you can place before the hand begins. If the dealer's card (or cards) are the same as yours – value-wise – then a tie occurs. If you have chosen to place the side bet, you will be awarded an instant payout of 10/1.
The tie bet is often placed by players who want to increase the game's win potential. However, when playing Casino War, be aware that the house edge is much higher for the tie bet than other bets. More bets can be appealing, but the odds aren't in your favor. We recommend sticking with your original bet – the ante. This is the best way to place Casino War.
Is Casino War Worth Playing?
Casino War can be good fun. When you play in land-based casinos, the game often has a community feel. The game is also straightforward to play. You and the dealer get one card, then decide if you want to go to war. If you go to war, remember that the odds get worse. The players' place at the table is relatively small, especially if you're playing with multiple players, so don't expect much action before the next card (or two cards) is dealt.
Any chips must be placed before the dealer's card is dealt. We recommend reading up on the Casino War rules at the table you're playing. Some casinos have different payouts when you and the dealer draw cards of the same rank. Just bear this in mind!
One of the benefits of playing at online casinos is that you don't need to worry about anything. All you need to do is decide on whether you want to go to war or not, and the computerized technology will do the rest! If you decide to play online, you will find the game offered by many game developers. In the past, Shuffle Master made one of the game's most popular variations. However, their games are no longer available. NetEnt does a great Casino War game worth keeping an eye out for.
Card Related Articles