The Top Bitcoin Wallets for Gambling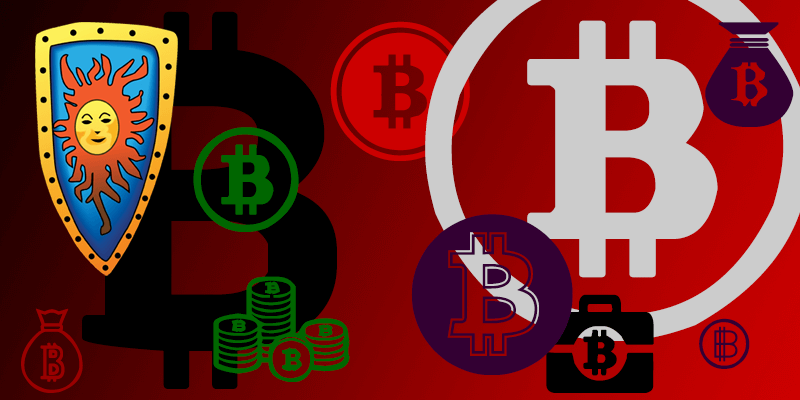 If you're looking to play at online casinos and enjoy crypto casino games, then a crypto wallet is an essential part of your online gambling experience. They're required to buy and sell cryptocurrencies, and they're also needed to store your cryptocurrencies securely.
On this page, we're going to be showing you the best crypto wallets for use at online casinos, and we'll explain everything you need to know about Bitcoin wallets and how they work.
Our Top Crypto & Bitcoin Wallets for Use at Online Casinos
Electrum Bitcoin Wallet
Ethereum is one of the best Bitcoin wallets around. While it doesn't yet support any other cryptocurrencies, it's ideal for those looking to start their crypto online gambling journey. It's also well-suited to those without much experience with Bitcoin gambling.
Established first in 2011, Electrum is one of the world's oldest and longest-running Bitcoin wallets, and it's one of the only ones to still work exclusively with Bitcoin. One of the main things that make this crypto wallet so popular with users is that it's incredibly secure. While it's still one of the leading hardware wallets available, Electrum has far greater levels of security when compared to other hot wallets. It also boasts an impressive selection of security features that many other hot wallets lack.
For example, when you use Electrum, you're able to manually adjust the fee when you send a Bitcoin transaction. This is incredibly useful as it allows you to set a higher fee for when the Blockchain is congested, and you need your transactions to reach gambling sites quickly and without delay.
Another significant benefit of using Electrum is the fact that it's a very lightweight client. Many desktop wallets and mobile wallets take up a lot of space on your computer, and if you're only looking to play at Bitcoin casinos and gambling sites and don't want to trade crypto regularly, there's no need for them.
Downloading and setting up the wallet takes just a couple of minutes, and it takes up very little space on your computer. What's more, Electrum is also fully open-source, which means that the code behind the program is available for public scrutiny. In addition to this, Electrum also offers you the chance to set up two-factor authentication and multi-signature support, so it really is one of the safest online wallets you can get today.
Coinbase
Coinbase is probably the best-known Bitcoin wallet and crypto wallet on the planet. Coinbase is an intuitive and incredibly secure wallet backed by a massive exchange and used by some of the world's largest crypto investors and financial institutions.
Unfortunately, Coinbase does not allow its users to transfer coins into gambling wallets. We have a deeper conversation on Coinbase, here.
Mycelium
Although it's geared towards mobile device users, Mycelium is a good all-around crypto and Bitcoin wallet. It's compatible with all popular cold storage wallet solutions, including Ledger, Trezor and KeepKey. It also allows you to make offline transactions, which is something the vast majority of mobile wallets aren't capable of offering today.
Like Electrum, Mycelium has been around for a long time, first making an appearance in 2008. Since the beginning, it's focused on being a mobile-only wallet (you won't find a desktop client or internet browser client available), and it's available to use on all iOS and Android devices.
One of the unique things about Mycelium is that the entire app can be reproduced by anyone, which means that any security flaws or problems are quickly identifiable. What's more, the app comes with a host of security protections, including a PIN code and 2FA.
It's also possible to change the fee when sending transactions with Mycelium; this is important for those looking to play at Bitcoin gambling sites, as it means you don't have to spend hours waiting around for low-fee transactions to complete. We also really like that Mycelium allows you to view detailed transaction history, including everything from the block height, the miner fees and all inputs & outputs.
Ledger Nano X
Ledger Nano X supports a considerable number of different cryptocurrencies. So even if you're not looking to play at Bitcoin gambling sites, you'll be able to find the specific cryptos you're looking to play with. Ledger Nano X comes built with special security hardware designed to provide additional protection to your private keys. If you're looking for one of the top hardware wallets around, Ledger Nano X is one you should consider checking out.
As one of the most recognizable hardware wallets globally, Ledger Nano X has a long history in the crypto world. The company's range of devices has been sold to millions of people, offering secure and safe crypto holding solutions.
While the Ledger Nano X is one of the more pricey hardware wallets, it's perfect for those looking to store cryptocurrencies on a more long-term basis. It currently supports a whopping 1,800 different coins and tokens, meaning you can store almost every crypto you could imagine using the coin.
Of course, Ledger Nano X is a lot more expensive than conventional wallets, and when you use hot wallets instead of hardware wallets, you won't pay any fees. However, if you're looking for something a bit more versatile than a hot wallet to use at Bitcoin gambling sites, Ledger Nano X might be a good option.
Exodus
Exodus is arguably one of the best desktop wallet solutions available, and, at the time of writing, it supports more than 145 different cryptocurrencies and tokens. It's also fully compatible with the Trezor One and Trezor T hardware wallet solution. You can also purchase crypto for use at online casinos using Apple Pay directly through the app.
Exodus started as a desktop-only wallet, but the company has recently released a mobile app that can be downloaded on all iOS and Android devices. It's also possible to customize the feehttps://www.exodus.com/ when using Exodus. Unfortunately, this is only possible when sending Bitcoin; you can't yet adjust the transaction fees when sending other types of cryptocurrencies.
What's more, like Electrum, Exodus runs on a lightweight client, which means you can download and install the wallet on your desktop computer in just a few minutes. It uses something called SVP technology, which means the entire Blockchain isn't downloaded.
Online Casino Crypto Wallet Guide
When you play at an online casino or sports betting site that accepts cryptocurrencies, you may, if you're inexperienced, find that it can be pretty overwhelming to understand how everything works. Thankfully, when you know how to play at Bitcoin gambling sites, it's a lot easier than it may first appear, and with so many new cryptos appearing every week, the technology behind digital currencies is also evolving fast.
To make sure that your funds are safe when you play at Bitcoin gambling sites or sports betting websites, you must have a wallet that's both safe and secure. While we've already shown you the wallets that we recommend, below, we're going to be showing you some information about crypto wallets and how they work.
What Are Crypto Wallets?
A crypto (or cryptocurrency) wallet, often also called a Bitcoin wallet, a hardware wallet, or a desktop wallet, stores the digital codes required to interact with the Blockchain. Contrary to what many people assume, wallets don't store any cryptocurrency coins; they store the code to look up the crypto asset on the Blockchain.
How Do Crypto Wallets Work?
Whenever a crypto transaction is initiated (whether it's Bitcoin, Litecoin, Ethereum or Dogecoin), you aren't technically sending any cryptocurrency coins. Instead, what you're doing is signing off your ownership of said coins. This essentially means that you're confirming to the Blockchain that you want to give up ownership of a certain number of coins and give this ownership to the person you're sending them to.
To achieve this, you need to have two things; a public key and a private key. A public key is a long string of letters and numbers automatically generated at random by the crypto wallet provider or company you choose to use. A private key is virtually the same, although this key should only be known by the owner of the wallet.
A good way of thinking about crypto wallets is like an email account like Gmail. When you get an email from someone, be it a friend, a work colleague or a loved one, they need to have your email address to send you that email. Similarly, when you send an email, you need to know what email address to send the email to; otherwise, it won't arrive.
However, while you'd be happy to give your email address out to most people, you would never give away the password to your email account — this is pretty much precisely how crypto wallet keys work.
When these two keys are used together, you'll be able to make deposits and withdrawals at Bitcoin casinos and send money to other crypto users. The public key that your wallet generates is paired alongside your private key, and these keys are used together to authenticate transactions. Once the Blockchain has verified both of these keys, your transaction will be processed.
Different Types of Crypto Wallets
Throughout this post, you may have heard us talking about a couple of different types of crypto wallets; cold wallets and hot wallets (along with a hardware wallet and web wallet.) While all of these serve the same primary purpose, there are a few distinct differences. Below we're going to be taking a look at the key differences between them.
Hot Wallets
Hot wallets are the most popular type of Bitcoin wallet, and if you're looking to play at online casino gambling sites or bet at sports betting sites, these are, most likely, the types of wallets you'll be using. Hot wallets are digital-based crypto wallets, and they are, essentially, pieces of software that you can access from your mobile devices and desktop computers or laptops. Today, many of the more popular hot wallets can be accessed directly through your internet browser, so you don't need to download or install any software to begin using them.
Arguably, the greatest advantage of using a hot wallet is that you don't need to download anything and can access them from anywhere. Both of your public and private keys are stored directly on the wallet provider's website or server. This means that you can open up the wallet on any device, provided you have the security credentials to log in.
It's incredibly easy to make transactions (i.e. making deposits and withdrawals at an online casino), although there is a downside to these hot wallets, which is a lack of security.
You see, while hot wallets offer unrivalled usability and are ideal for those times when you want to send transactions since the private and public keys are stored on the company's servers, your coins are more susceptible to attack.
For example, hackers and cybercriminals could potentially find and exploit unknown vulnerabilities in the software that you use. If this were to happen, you'd risk losing your coins. There have, in fact, been a few cases of fairly significant exchanges and crypto wallets getting hacked and users losing all of their coins.
This is the main reason why it's so important to choose a secure crypto wallet. Generally speaking, if you choose one of the bigger, more well-known crypto wallet providers, then it means they'll be able to invest more money into their security technology, reducing the risk of you losing any coins.
Cold Wallets
If you search for the best Bitcoin wallet to use at the best Bitcoin gambling sites, then there's a strong chance you'll find that some sites don't recommend using a mobile wallet, a hot wallet address or multiple wallets on the same platform. This is where cold wallets come into play. These, and paper wallets, store your private keys offline, so you're in complete control of both your keys and your Bitcoin wallet address.
In the case of paper wallets, they store your digital private keys literally on a piece of paper. However, today, cold wallets tend to be physical hardware devices, which essentially means that when you buy crypto, you'll be sending it to the Bitcoin address that's linked to your hardware personal wallet.
While this may be over-complicated for many online casino players, some crypto casinos recommend using this type of wallet, especially if you're storing large amounts of coins. This is because cold wallets are, by design, made to be incredibly hard to hack. For example, unless you personally fall for a common type of phishing scam and accidentally give away your private keys or let a hacker gain access to your device, it's virtually impossible for a hacker or thief to steal your coins.
The only way that they'd be able to do so would be if they managed to physically steal your USB device. However, even then, they would need to know your password. This high level of security makes cold wallets perfect for those who are security conscious. Even if you lose the device, you can still recover your coins by entering a special 12-word recovery phrase.
What to Look for When Choosing a Crypto Wallet
You may assume that aside from the differences between hot and cold wallets, most of the wallets you'll be using are pretty much the same. However, in reality, this couldn't be further from the truth. Below, we're going to look at some of the primary considerations to keep in mind when choosing which wallet you should use before playing at the best Bitcoin gambling sites.
How Much You Will Trade
The first thing you should consider is the volume of trade you're planning to do. For example, will you be trading every day, or do you only plan to make a couple of trades every month? If you're planning on making a lot of trades (i.e. daily deposits and withdrawals), then a hot wallet is probably better suited to your needs. It's much easier to make trades, and you don't have to worry about using a physical device.
If, however, you plan on holding large amounts of cryptocurrency, or if you're more worried about security, then a cold wallet could be a better option. However, you should be aware that it's going to take a lot more time each time you want to send coins to your Bitcoin address at the casino or Bitcoin poker site you play at.
A good compromise is to use both; you store the bulk of your crypto in your cold wallet and send, for example, a couple of weeks' worth of crypto to your hot wallet. This ensures that you can easily make deposits and withdrawals from your hot wallet while also ensuring that you're storing most of your coins securely in your cold wallet with your private keys safe.
The Cryptos You Want to Trade
The second primary consideration to take into account is to determine what you want to trade. For example, if you plan on sticking just to a Bitcoin casino, then you don't need to worry too much about other cryptocurrencies, and Bitcoin-specific wallets will be just fine for you.
If, however, you plan on using other cryptos or perhaps a combination of several, then it's important to choose a wallet that offers support for multiple different cryptocurrencies. Whether it's a mobile wallet or a desktop wallet, the wallet you decide on should offer support for the coins and tokens you want to trade. It's always worth checking this in advance to make sure that you don't accidentally open a wallet that doesn't support the coins you want to buy, sell and trade.
How Much Do You Want to Spend?
Another thing to take into account is how much money you're planning on spending/sending. For example, if you're only planning on sending small amounts of money, then a hot wallet should be perfectly sufficient for your needs. If, however, you are planning on placing large trades and thus holding large amounts of crypto yourself, then a cold wallet may make more sense.
Hardware wallets are ideal for times when you plan to spend a lot of money, and while we've already covered the security aspects of this, it's also worth pointing out that there's a financial aspect.
For example, if you use a hot wallet, there are very rarely any fees involved to use them. This makes them ideal for beginners as you don't have to pay anything to begin using the service. However, if you plan to get a hardware wallet, you should know that there's an upfront investment, especially if you plan on buying a physical USB device.
However, on the other side of the coin, some hot wallets, while not requiring an upfront fee, do charge higher transaction fees, and this is one of the ways in which they're able to generate revenue. However, ultimately it's all up to you, and it's definitely something you should consider ahead of time.
What Specific Functions Do You Need?
The functionality you require is another thing you should consider before opening a wallet, and this goes regardless of whether you're planning on online betting or just using your wallet in general.
For example, do you plan on doing anything specific other than making deposits and withdrawals to online casinos? For example, some traders want to invest their crypto, while others want to earn interest. If this is the case with you, you may want to look into a wallet that offers functions such as crypto lending, a growing industry that's becoming more popular by the day.
Is a Mobile App Needed?
Today, the vast majority of the best crypto gambling sites will generate Bitcoin addresses when you first open your account; you will rarely see this address change in the future. However, if you plan on playing from your mobile devices a lot, then it may make sense to have a mobile app available to you so that you can easily send crypto while on the go.
This is where mobile apps come into play. While most of the prominent wallet providers today offer a mobile app, not all do, and this is something that you should think about when choosing which company to open a wallet with.
Generally speaking, a mobile app is a pretty good idea; it makes everything a lot easier. It also allows you to check your crypto holdings (sometimes also along with your fiat currency holdings) from your mobile devices.
Is Customer Support Available?
While customer support isn't necessarily something you think about when opening a wallet, you'd be surprised how useful it is to have a customer support team. They're working 24 hours a day, seven days a week, to help you out should you run into any problems while using your wallet.
For example, newer traders having a 24 hours a day, seven days a week customer support facility is a significant plus. It allows you to ask questions and get help should you find yourself running into any problems. This is especially important if you're planning on holding large amounts of money in a hot wallet. A customer support team can be a reassuring lifeline in cases where the site may go down for maintenance, or the Blockchain is congested, and you're worried about where your coins are.
Supported Currencies
As a general rule of thumb, the more currencies that are supported, the better. Unless you're only looking to trade Bitcoin, we strongly suggest trying to find a wallet that supports multiple different cryptocurrencies. The same can also be said about Bitcoin casino sites.
What's more, if you're planning on purchasing crypto through your wallet, you may also want to check out which fiat currencies are supported. For example, some wallets only allow you to buy crypto using major currencies like USD and GBP, while others will support many other fiat currencies from around the world.
Thankfully, it's pretty easy to tell which currencies are supported right from the get-go, well before you end up joining a wallet provider, and this is something that's typically not too hard to check.
Hardware Wallet Compatibility
If you're seriously thinking about which Bitcoin wallet to choose, or if you don't even want a Bitcoin wallet and prefer another type of cryptocurrency wallet, then it's also worth considering whether you need hardware wallet compatibility.
Even if you're not a regular trader or don't plan on spending large amounts of money, it can be well worth thinking about a hardware wallet for the future as it allows you to safeguard your coins. These coins could, in time, become incredibly valuable.
Ideally, even if you don't plan on using a hardware wallet now, you should try to use a hot wallet that is at least compatible with one major hardware wallet. That way, in the future, if you decide you want to start using it, you have that option available to you.
Thankfully, it's pretty easy to check this before signing up for a wallet, but if you're ever in doubt, then you can reach out to the customer support team and ask them. You may not think that it's super important right now, but it is something you should think about, especially if you're going to be dealing with substantial levels of volume.
Accessibility
One of the main things that new crypto users complain about is the unfriendly user interface found with many cryptocurrency wallets today. To make matters worse, some sites make things way too complicated, making it a real pain to figure out what you need to do. It's one of the reasons why major exchanges and wallets like Coinbase have done so well; their website is incredibly easy-to-use, easy-to-navigate and user-friendly, and this is a breath of fresh air from conventional wallets.
When you're looking to open a new wallet, it's always worth checking the site beforehand to ensure that it's user-friendly and suitable for your specific needs. You may also want to look at the sign-up process to see whether or not you need to undergo a know-your-customer (KYC) ID check.
While this isn't generally required just for opening a wallet, some sites will require you to complete a know-your-customer (KYC) check before you're able to receive or send coins. If this is the case, you should be aware that it's going to add a few extra days onto the time it takes you to sign-up.
FAQs
How should I choose the best Bitcoin wallet?
If you're looking for the best wallets but don't know much about crypto, a look at our list of wallets at the top of this page is an excellent place to start. These are all incredibly reliable and safe wallets to use, and they all have a long history and reputation in the crypto industry.
Do I have to pay to use a cryptocurrency wallet?
That depends on the type of wallet you open, but usually, the wallet provider will somehow make money. For example, if you use a hardware-based wallet, then you'll need to pay the upfront cost for the device itself. If you use a hot wallet (one that stores your coins online), the site may charge higher transaction fees to help them profit.
What casino games can I play at crypto casinos?
If you're looking to play at a crypto casino, using currencies like Bitcoin Cash, Bitcoin or Ethereum, you'll find a massive selection of casino games to enjoy. These include everything from casino table games to live dealer casino table games, video slots — there's even a great selection of video poker and keno!
Do I have a Bitcoin wallet at the crypto casino?
Yes, whenever you open an account at a crypto casino, you'll notice that a number of depositing addresses have been automatically created for you. Generally, you'll be given a wallet address for each of the cryptocurrencies that the casino offers. You don't need to worry about your wallet address changing every time you make a deposit; the wallet address stays the same, making it much easier for you.
What is a hardware wallet?
A hardware wallet is a physical wallet that enables you to store your crypto (including Bitcoin, Bitcoin Cash, Ethereum, and Litecoin) securely on a device like a USB. When you use this kind of hardware wallet, it makes it much more secure, and thieves and fraudsters would have to physically steal your USB (and crack your password) if they were to be able to steal your coins.
Is Coinbase safe?
Yes, completely. Coinbase is one of the most secure and safe wallets and exchanges in the world. They're also a publicly-traded company, so they're held to incredibly high standards by regulators, both in the crypto world and the financial area.
The only real downside to using Coinbase is that you don't have control over your private keys. However, the site is so safe and secure (and it has an impeccable track record) that it's rarely a problem that you need to worry about.
What other cryptocurrencies can I use to play casino games?
If you're curious about the other cryptocurrencies available at a Bitcoin casino, you may be surprised to learn there are quite a few different coins you can play with. While this is always casino-dependent, you'd be surprised at just how many coins you can play with.
For example, some of the most common coins you'll find yourself playing with include Bitcoin Cash, Ethereum, Dogecoin, Tether, Monero, Litecoin and Ripple. Some of the top Bitcoin casino sites are even adding additional cryptocurrencies, so you can expect to see this list increasing over time.
---
Related Articles