Player Arbitration Service ( PAB ) set to eclipse last year's return to players
By Dave Sawyer, Last updated Jul 1, 2023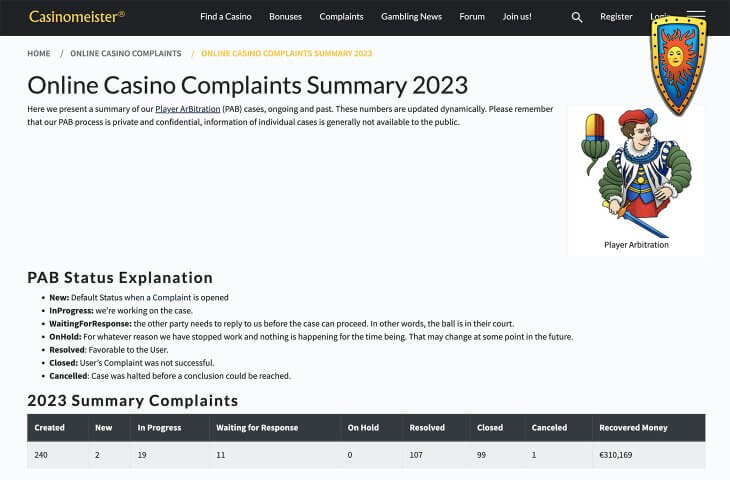 With only five full months of 2023 completed, the Player Arbitration Service here at Casinomeister is poised to surpass last year's return to players, with Player Complaints Manager Max Drayman of the view that within the next couple of weeks, last year's return of €322,000 is set to be surpassed.
The online casino complaints section of Casinomeister, a full summary of which you can view here, is one of the most important parts of Casinomeister and over the years the Player Arbitration Service has helped players recoup several millions of Euros  from the online casinos that players have lodged a complaint against with the PAB Service.
Commenting on the numbers for 2023 so far, Max Drayman said: "We have completed almost 250 PABs  so far and just topped €300,000 returned to players."
"A few short years ago those would have been decent numbers for the whole year, so we're looking good for 2023. For the record the total for 2022 was €322,000 – this year we'll be passing that within the next week or so."
The Player Arbitration Service ( PAB ) has been in operation here on Casinomeister since the late 20th century and is a private and discreet service, offering real recourse for players and affiliates to have their problem(s) seen by the right person.
For further information and guidance on how you can submit a complaint, please visit our dedicate Player Arbitration Service age whereby full details are provided