Webmeister Websites

Affiliate webmasters of online casinos can make or break the gaming industry. I have been personally involved in the online gaming industry for over twenty years, and I have seen my share of amazingly awesome websites – some that I seriously covet – and there are loads of really good people, brilliant entrepreneurs who have bettered the player experience by their ingenuity and creativity.
On the other hand – we have witnessed the crappy bottom feeding scumbags who target problem gamblers, or who promote casinos that have nefarious backgrounds.
There are hundreds of affiliate webmasters who have been members at Casinomeister for years, and who maintain a sense of responsibility and accountability (we aren't selling shoes, y'know) and who support and abide by a Code of Conduct. The affiliate webmasters who abide by our Webmeister Code of Conduct are deemed "Webmeisters" and will have their casino portal showcased here. For our Senior Members and above, they will have a custom page showcasing their casino portal.
Webmeisters' Code of Conduct:
The webmaster will not promote casinos that habitually prey on problem gamblers.
The webmaster will do his or her due diligence and ensure that the casinos they promote are using properly licensed software (i.e. no pirated copies of games, etc.)
The webmaster will not violate or infringe on other's copyrights, trademarks, or any intellectual property.
The webmaster will not cheat affiliate programs by sending bogus traffic – complaints submitted from affiliate managers will be looked into.
The webmaster will not promote casinos in an unethical manner (spam, scraping, unethical references i.e cure your cancer by winning big, avoid COVID-19 and play here now, etc.)
Those deemed Webmeisters, will have this seal located in the footer of their main index page and hyperlinked to their Casinomeister listing:
Interested in joining? Please join our forum and join our webmaster user groups here: Webby and Webmeisters in Casinomeister's forum.
The Following Websites belong to Casinomeister Webmeisters
Easy Vegas provides information and tools for visitors to Vegas and recreational gamblers, with exclusive features like our Average Loss Calculator, Comps Calculator, Roulette Odds Calculator, random number generators (for craps, baccarat, and roulette), interactive list of Vegas casinos, slot simulators, tipping guide, guide to gambling taxes, and tons more. MichaelBluejay is the Webmeister.
US Online Casinos is a new online casino portal that provides free slot games, online casino reviews, slot reviews, and everything a US gambler needs to know about playing at US facing online casinos. All of our casinos have been tested by us – we are US players and have years of online casino experience, and they are the most trustworthy casinos that you will find. Jeff515 is the Webmeister.
CasinoGazette was first launched in 2000 and has been going strong since. We publish original news for players, affiliate webmasters, and iGaming Industry folks. We also include podcasts and video webcasts. If you haven't checked us out yet – well, what are you waiting for? C'mon down to CasinoGazette!
CasinoSlots.co.za has the best South African online casino and slot game reviews. Like many South Africans, we love to have a spin at our favourite online casino now and again, and like everybody else, we also like to know that the casinos we are playing at can be trusted.
At aanbieding.casinfo.nl we provide an always up-to-date overview of casino's which offer no-deposit freespins.
The language of the website is Dutch and in the future we hope to be able to offer many more freespin offers.
This is just one of the many reliable websites we developed in the last 2 decades.
First Look Games was set up in 2018 to provide the link between game developers and casino affiliates, providing game information & marketing assets from the latest & greatest game releases before anybody else. Affiliates can also benefit from our accuracy management service, which notifies them when they get metrics such as the RTP %, number of paylines or number of reels incorrect on site. The best bit? It's completely FREE for webmasters. Great news for affiliates… great news for game developers.
Topboss Group was launched in 2003 and offers casino ratings and reviews of online casinos, slot reviews and all things related to the online casino industry.
How-to Guides, Gaming Tips and details about Payment Processors, Licensing jurisdictions, Blacklisted casinos and much more can also be found.
Topboss is the Webmeister.
PokCas is a Poker and Casino Brand Ranking website. Brands can go up and down in rankings depending on their performance. What matters is their transparency, response to feedback and additional value. The site also offers many great strategy guides and articles which will help you become a better player.
Snazzyslots.com has been online since 2013, providing players with a resource to find both new and safe online casinos. We aim to provide you with casino reviews, demo games, gaming guides and general news and information related to online gaming.
---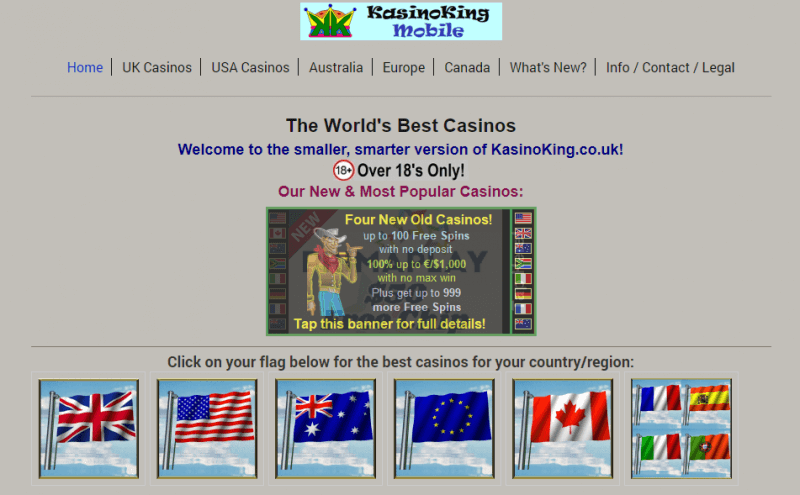 Kasino King Mobile was launched in 2017 as a smaller and smarter version of the original KasinoKing.co.uk site, which has been online since 2006, but is not mobile phone compatible.
The webmaster has been playing online casinos almost daily since 2001 and has a wealth of knowledge on all aspects of being an actual player at over 300 casinos.
The site lists and rates only the very best casinos for various countries and regions of the world. It also features industry news, new games and casinos, beginner's guides and much more.
Website: KasinoKing Mobile
Webmeister member: Kasinoking
---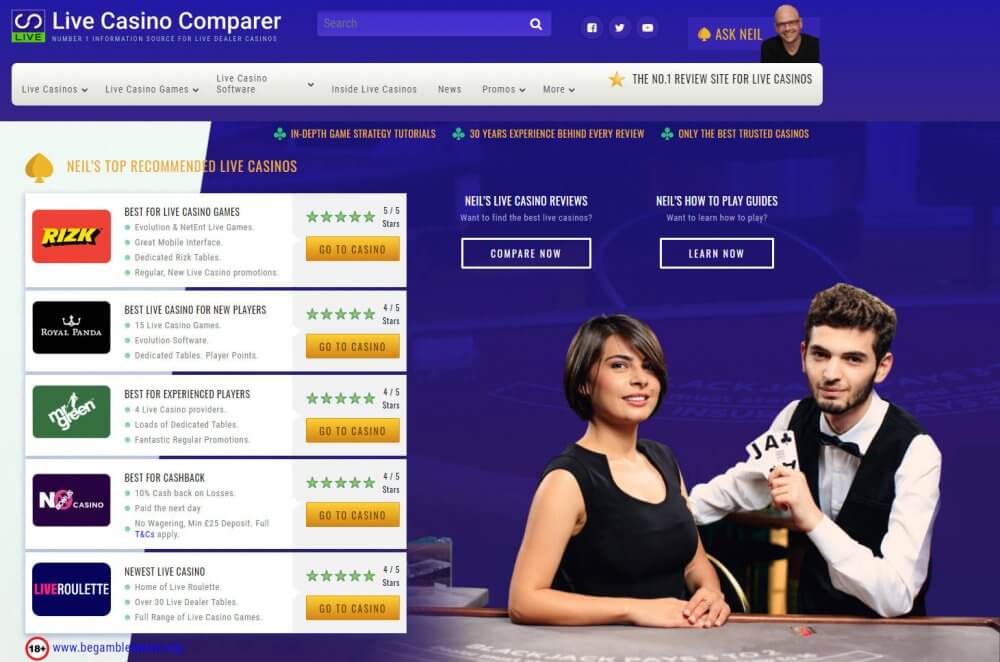 Live Casino Comparer is the result of my passion for playing Live Dealer games. I started out playing at Land-Based Casinos and quickly discovered I could also play the same games online with a Live Dealer. From that moment on, Live Casino Comparer was born, recording everything I learned about Live Casino, creating an online resource that would help educate and advise others on the world of Live Casino. Unlike other websites, I try to provide unique content that no-one else does. I have developed good relationships with all the software providers and have managed to visit most of the major Live Casino Studios around the world. I'm able to give an insight that no one else does, and I aim to reflect that in my recommendations of the best and safest places to play."
Website: Live Casino Comparer
Webmeister member: NeilW
---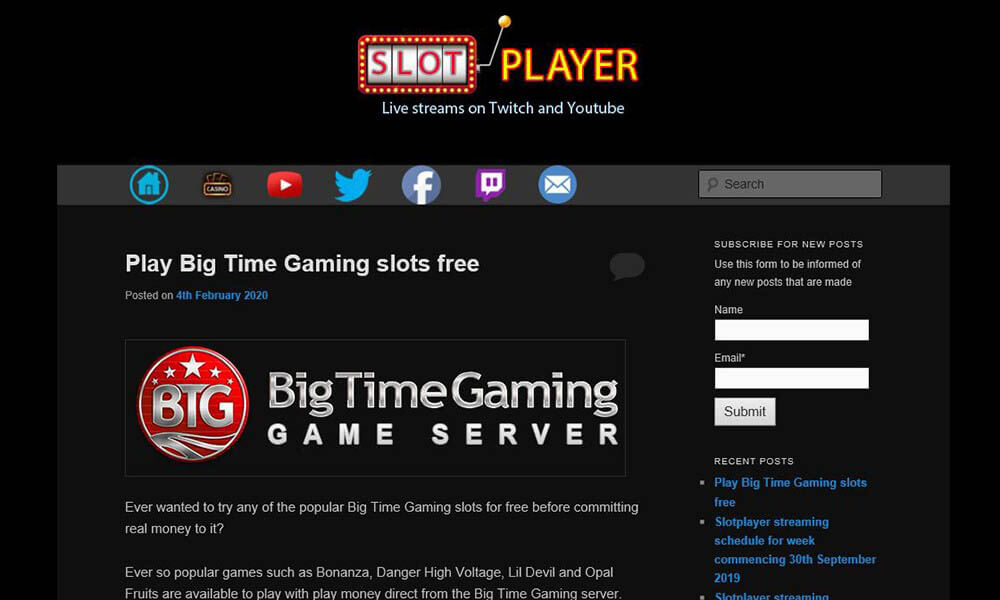 "Slotplayers.co.uk is the home page of Twitch and Youtube streamer Slotplayer. Launched back in 2015 it is regularly updated with not only the streaming schedules but also industry news and new slot announcements.
Slotplayer only plays at Casinomeister accredited casinos and for that reason only a limited number of casinos are promoted. They have all been tested on playability, withdrawal speed as well as source of wealth / verification speed and issues.
Responsible gambling is taken very serious; hence why a number of articles are provided that explain the numerous gambling control tools available such as then in house casino ones as well as gambling blocking software such as Gamban and the UK casino wide self exclusion scheme Gamstop."
Webmeister's at Casinomeister abide to our Webmeister Code of Conduct.
Website: slotplayers.co.uk
Webmeister member: interlog
---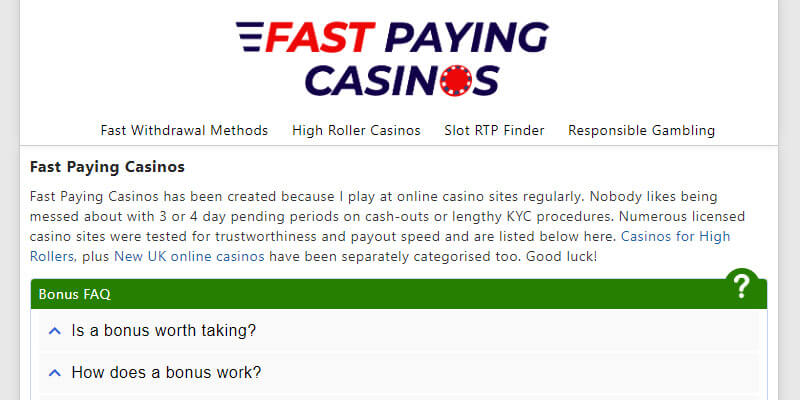 "As an avid online slots player for 7 years prior to creating FastPayingCasinos, during that time it became apparent the quality of the casinos I could play at varied greatly. This is why I trialed and played at numerous properly licensed multi-platform casino sites that paid cash-outs within a reasonable timescale whilst offering a good selection of popular slots, in order to provide my visitors with many safe and entertaining options for their own play. I always endeavour to promptly update the pages and at the same time stay alert for any reputable new casinos or demonstrable reduction in standards of any already listed, the latter via sites such as Casinomeister."
Website: FastPayingCasinos
Webmeister member: dunover
Webmeister's at Casinomeister abide to our Webmeister Code of Conduct.