Bryan Upton on the latest developments from Lucksome
By Dave Sawyer Nov 9, 2022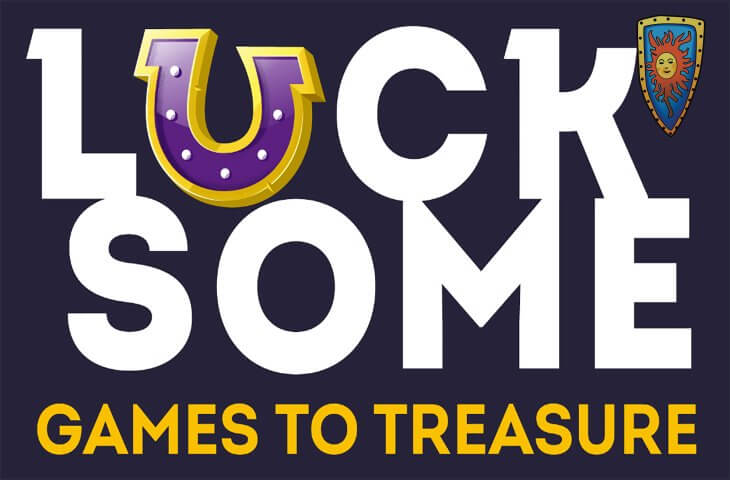 We are pleased to welcome once again Bryan Upton from Lucksome, who has kindly agreed to discuss their recent release Coins on Fire and their forthcoming Christmas slot Saint Nicked, which is due for general release on 24th November.
Thanks for taking time out of your busy schedule Bryan so soon after we last spoke. So, as alluded to, the purpose of us getting together again is to discuss the latest games being added to the portfolio of game content produced and developed by Lucksome.
First, is Coins on Fire, which was released network wide on 20th October. A game appealing to fans of 'classic slots', how has the overall reaction to it been from players since its release a few weeks ago?
This game has the highest number of unique players for any of our games at launch; it's had a lot of people play it, which is wonderful – we've got more people playing a Lucksome game than any other Lucksome game before. So it seems to have been popular from a player engagement point of view.
It certainly looks, feels, and plays really well, with a fast-paced action. A medium to high variance slot, in the medium to long term, do you expect Coins on Fire to become one of Lucksome's more popular games?
Yes, because it's a simple game, so it's widely accessible and the learning curve is practically zero. The game will introduce features very fast and players will understand that straight away, so it has quite a broad appeal; anyone can pick it up and play it. It's not overly complicated, and looking at those numbers of mass adoption I guess it will be.
Are there plans for you to produce more 'classic' and retro style games as a result?
Yes, for sure. We like mechanical games and stepper games; they're the birthplace of slot machines, and there's a certain attraction and allure to them in many markets as well, lots of players like them.
From a nerdy "in the industry" view, we also very much like the art. We're working on these kinds of games and obviously have a view on the North American market where they're obviously quite important.
With a reported maximum win of 1,000 times your bet stake, could you let us know what the largest win that has been hit on Coins on Fire to date?
1,000x! Because we've had so many players hit the game I can understand why it's happened so quickly.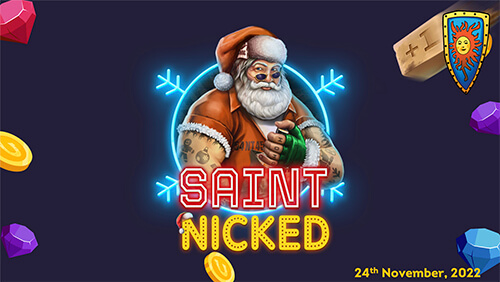 Great food for thought and no doubt our visitors who haven't already tried it out, will now give it a try.
Lucksome does seem to be quite a productive studio and as such you don't tend to stand still, hence news of your Christmas release Saint Nicked is due for release at the end of November. A game featuring 243 ways to win. Can you give us a quick overview of Saint Nicked?
The narrative is that Santa and Rudolph get a bit bored with "the Christmas thing" and just want to spend some time with each other on Christmas Eve. So instead of dropping presents off around the world, they go to a bar and get a little bit too merry (i.e. the Base Game). They end up causing so much trouble that they get arrested and taken to prison, and this is where the games free games bonus takes place.
We have a lovely Advent Calendar trail feature. The bar meter is what triggers the advent calendar. The bar meter has essentially four different colours according to which of the prizes you're going for. You'll see the advent calendar has doors one to twenty-five, and each one of those will have a colour associated with it according to the colour of a bauble: green, red or gold (and then there is the star on the top of the tree).
If your next door is a green bauble – which is lowest in terms of prize amount – the bar meter will be green; the bar meter always shows what your next prize is based on its colour in the advent calendar. Then you have beer glass sub-symbols on top of the reel symbols that arrive with numbers in them; every time you land one, they will top up the bar meter. For any spin where you don't get a sub symbol, the bar meter will reset.
What you're looking for is to keep the streak going until it hits the number you need to trigger the Advent Calendar and get the prize behind the door. A green will need 20, a red needs 40, and a gold needs 60 beers.
This sounds like quite a lot but we've added safe points. Once you reach a safe point, the metre will always reset back down to that safe point; it won't go all the way down to the bottom.
Once you build the bar metre to the relevant target, the advent calendar appears and you open whichever day's window you're up to. It will then spin in either a cash prize, or launch the free games bonus.
As you move up the calendar, you'll get to the top, which is the 25th, and hit the big one – the star on top of the tree covered with toilet paper. From there you will win a higher than average number of free games. Once you've unlocked the 25th door, you're then in "Advent Calendar Plus Mode" and you can trigger door 25 over and over again.
You've now got a new way of triggering free games and on average you're getting more free games on average triggered when you open the 25th door than if you triggered them normally in the game. The game will also now start to record how many times you've won the star and also what the last number of free games you won were. So it's a nice little achievement on the top.
From the promotional material we have seen, it certainly looks like a lot of time and effort has gone into the artwork and graphics employed in the slot. Likewise, with regards the playability, no doubt the same goes for the game engine. Therefore, can you see Saint Nicked being a game that players will fire up and play outside of the festive season?
Yes, for sure, because of the advent calendar. I've always wanted to do a game with an advent calendar, and in my previous jobs I've always tried to get a game with an advent calendar in, but for many different reasons it just never happened – so I was like, "I'm going to make it happen this time".
The advent calendar is very cool, and I've seen Christmas games being played in July because – at the end of the day – if you like the game, you like the game. So yes, if it's a good game, players will play it, and they'll play it for a long time.
How long on average from conception to delivery of the finished product, does the production of a game like Saint Nicked take?
Saint Nicked has a lot going on with it – a lot of audio, more features, and is a much more complex game. It's hard to quantify it, but Saint Nicked was probably about seven-eight months.
You said in our last interview that your then unnamed Christmas game which we now know is Saint Nicked, is a 'really, really funny game'. Having unfortunately not seen it in action yet, can you let players know what to look out for in particular?
It's the humour. The story is easy to understand, but we've put a lot of effort into the voiceovers for this game and they are hilarious. We had a lot of fun trying to find the right voice actor who would be willing to do a drunk Santa and burp on a microphone for us. Hopefully the players will see that the humour works throughout the story of the game and it's just fun.
There's a lot of stuff going on all the time: the advent calendar pops up regularly. The story is about Santa and Rudolph being together, so whenever they're in part of a win, they will multiply all wins with their Santastic Multipliers.
Those two to be on the screen in a win, and they will "cheers!" you and all your wins are multiplied by them. It's all sewn together in a really nice narrative. It's been super-fun to work on it; everything just makes sense and is funny.
Do game studios in general see an uptick in player activity during the end of the year? Do you also regard it as an important period to have a showcase game ready to release?
Yes, and yes! Of course.
Lastly, what does 2023 have in store for Lucksome, any hints as to what players can expect from you next year?
We are introducing a new mechanic, and in fact we're introducing three new mechanics next year. We've used the first couple of years to really give us time to look at more "out there" stuff. We've taken our time to experiment a little bit, and we're always going to experiment.
We've been scaling as well, which means that we're a bit slower than I'd like because scaling obviously takes time for the team itself. But we've been spending time experimenting with different mechanics and also pushing the limits of game genres. We have a new mechanic called Hyperlines, which will be coming out early in Q1.
We will also be launching another game type which will be called Hyperstream – I'm not sure when that will be, but I'm hoping that will be late Q1. That will be a new game type that I'm really looking forward to. We'll see how that goes; we're just in early phases of development on that.
We're also working on an extremely high-volatility game with a large payout, which will also be towards the beginning of the year. So we've got a few things cooking in the Lucksome oven. We've been working on something else for a really long time that I wanted out this year, but we haven't managed it, which is a system-level functionality which will definitely be out next year, and that will be unique and interesting, and I don't think a studio of a size like ours has been able to produce something like this, so I think this one will be quite a big thing.
We're going to be launching that next year across a lot of our games, so 2023 will be a really big year for Lucksome. We've put a lot of time into thought and design, and hopefully this will come to fruition next year.
Thanks again Bryan for your time, have a great Christmas and New Year and hopefully we can sit down again in 2023!