IGAMING GUIDELINES AND TIPS
Top 5 Car-Themed Slots
By Alex Smith, Last updated Nov 11, 2022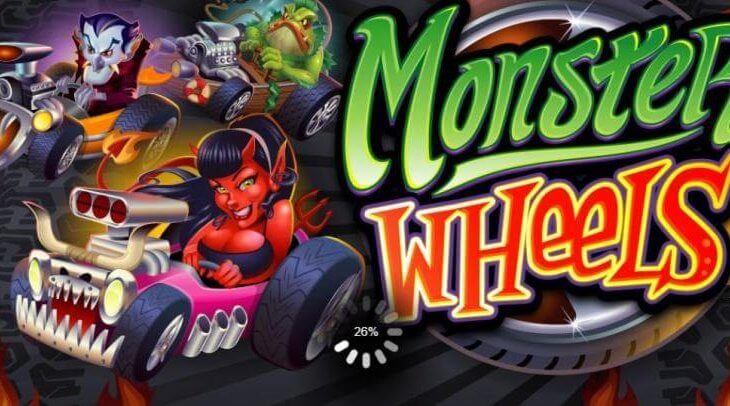 "Big news! Big Time Gaming is giving away a Tesla Model 3. Between now and the end of November we will track the biggest win multiplier every month across all our games across all our casino partners. The players that achieve the biggest win every month will go into the final draw in November."
That's the exciting news that Big Time Gaming announced just under a month ago, and one lucky player really will win a brand new Tesla Model 3! It's one of the biggest promotions we've ever seen here at Casinomeister, and it's got players talking from all corners of the globe.
It got us thinking though… what are some of the top car-themed video slots? Well, we're about to look at five of the most popular – and let us know in the forum if you recognize any of the games listed. Think other car-themed slots should be mentioned? Then again, feel free to let us know! For now, let's take a look at the top 5 car-themed slots.
5: Fast Lane – Rival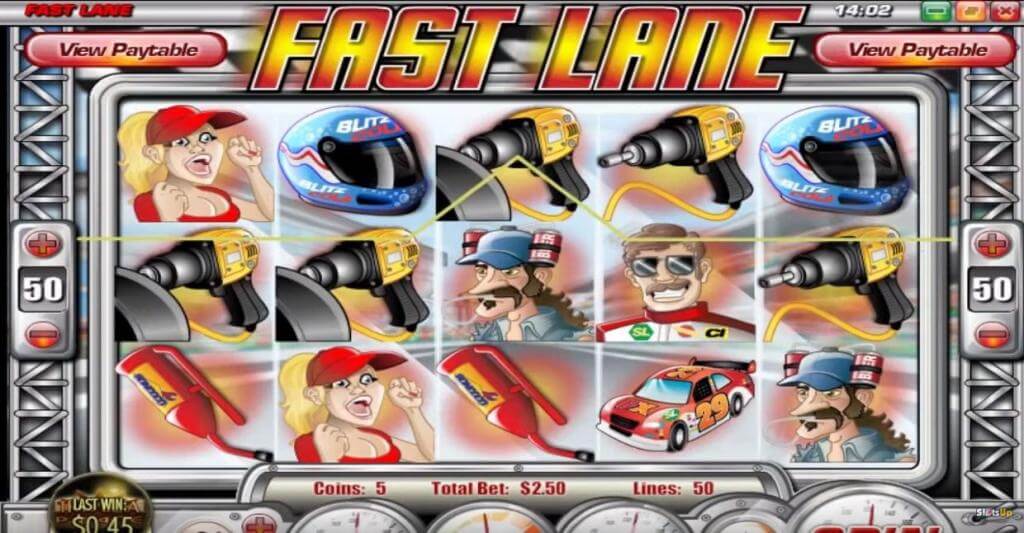 Fast Lane is an old-school video slot from Rival, and the game is built around a 3-reel, 5-row format. There's a total of 50 fixed paylines, and as you can probably imagine, the game's based on the high-octane sport of motor racing. (Like many of Rival's slots, it's also possible to adjust the number of active paylines. This means you can play from as little as one, and as many as five.)
There's a ton of fast-paced bonuses to look forward to in Fast Lane, and the first is the expanding wild feature. On the reels, you'll notice a green car. Anytime this symbol lands on the first, third or fifth reel, it will expand to cover the entire reel, making all symbols on that reel wild. It's possible to get up to three wild reels on a single spin, and if you're lucky enough to match 4-of-a-kind and 5-of-a-kind symbols on the payline, you're in for some big wins!
The main attraction of Fast Lane, however, is the bonus round. This is triggered by landing three, four of five of the blue car scatter symbols anywhere in view. Doing so will award you 5, 10, or 20 free-spins respectively. During the free-spins round, all wins are multiplied by 3X, and the wild reels feature is present too.
The third and final bonus in Fast Lane is triggered by landing three of the flag symbols anywhere in view. Once triggered, you'll be tasked with using your mouse to follow the driving crew. It's a simple bonus where you can win various prizes and awards, but it lands quite frequently which means you shouldn't have to wait around long to trigger it.
4:Dream Run – RTG
Dream Run is a popular video slot from Realtime Gaming (RTG) that places you right in the driver's seat. The game is built around a 5-reel, 3-row format, and there's a total of 25 paylines active. Like many of RTG's video slots, Dream Run comes with an exciting progressive jackpot feature, and there are a total of five jackpots that can be won on each and every spin.
With an RTP of 96.5%, Dream Run offers great bang for your money, and you can win a non-progressive jackpot of up to 7,500-coins on each spin! The bonus round in Dream Run is exciting, and if the scatter symbols turn green, you'll be taken to a brand-new screen. Here, you'll be given the option of picking one of five cars, and you'll then begin a fast-paced drag race!
Where you place in the race determines how many free-spins you're awarded, and if your chosen car comes first, you'll win 25 of them. You will then be taken to another drag race – this time, you're competing for a multiplier. It's possible to win a multiplier of up to 100X – and the multiplier you win is applied to all wins formed during the free-spins.
The second bonus in Dream Run is called the Nitro Racing feature, and this is triggered by collecting 10 of the races in the 'Racer Tally' bonus. This awards you with an additional 4 free-spins. Now, like most RTG slots, the progressive jackpots are awarded completely randomly, although the higher your bet amount, the greater your chances of winning one of them.
3: Gumball 3000 – Play'n Go
Gumball 3000 is a video slot from Play'n Go – and while it's not one of the developer's most successful releases ever, it's a game that's well-worth playing – especially if you're looking to get front-seat action! Named – of course – after the famed Gumball 3000 rally – the slot offers some really impressive payouts. Landing five of the top-paying symbols awards you a payout of 2500-coins, and the RTP of 94% ensures you get a good amount of play-time.
The first feature you'll come across in Gumball 3000 is the bonus feature, and this is triggered by landing three of the bonus symbols anywhere in view. You'll then be taken to a new screen, and this shows you an interactive map, with three destinations as options. You simply need to pick one of these three options, and once you've done so, you'll be awarded a random cash payout. While – from our experience – the amounts are usually around the 30X stake mark, it is possible to win as much as 150X your stake here, so there's some pretty decent win-potential.
Now, the second bonus round is the free-spins bonus, and this is triggered by landing a wild symbol on the first and fifth reel. Once triggered, you'll be awarded 15 free-spins, and the wilds that triggered the free-spins bonus stick in place for the duration of the bonus. Unfortunately, it's not possible to re-trigger the feature, so you'll only be able to play 15 spins per bonus.
2: Monster Wheels – Microgaming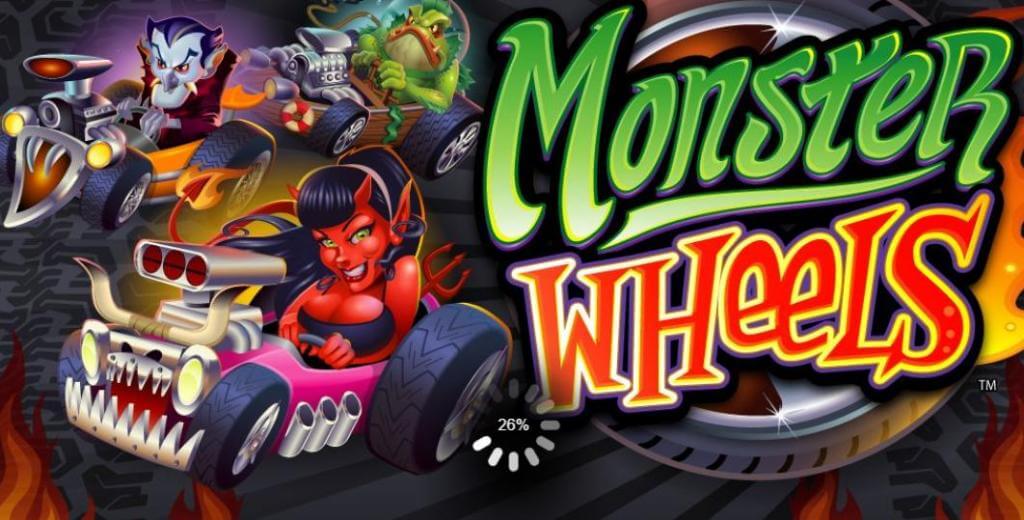 Monster Wheels is a super unique video slot from Microgaming, and the game's built around a 5-reel, varying-rows format. There's either 128 or 288-ways-to-win, and you'll be able to play the game from between .30 and 15 credits per spin. The first thing you'll notice when you load up the game is that you're offered two choices. You can basically choose the reel setup you want to play with here.
Monster Wheels is all about the bonus round, and this is triggered by landing three of the Gas Can scatter symbols on reels one, three and five. Once activated, you'll trigger the bonus, and you will then be tasked with choosing one of three free-spins options. These are shown below:
12 Free Spins with a 2X multiplier
6 Free Spins with a 4X multiplier
3 Free Spins with an 8X multiplier
Now, during the free-spins themselves, each time one of the Gas Can scatter symbols lands in view, you will be awarded one additional free spin. If you land two of the scatter symbols, you'll be awarded an additional two free-spins. However, if you manage to land another three of the scatter symbols, you'll re-trigger the feature completely – so there's plenty of spins available if you manage to land enough of the scatter symbols in view.
1: Drive: Multiplier Mayhem – NetEnt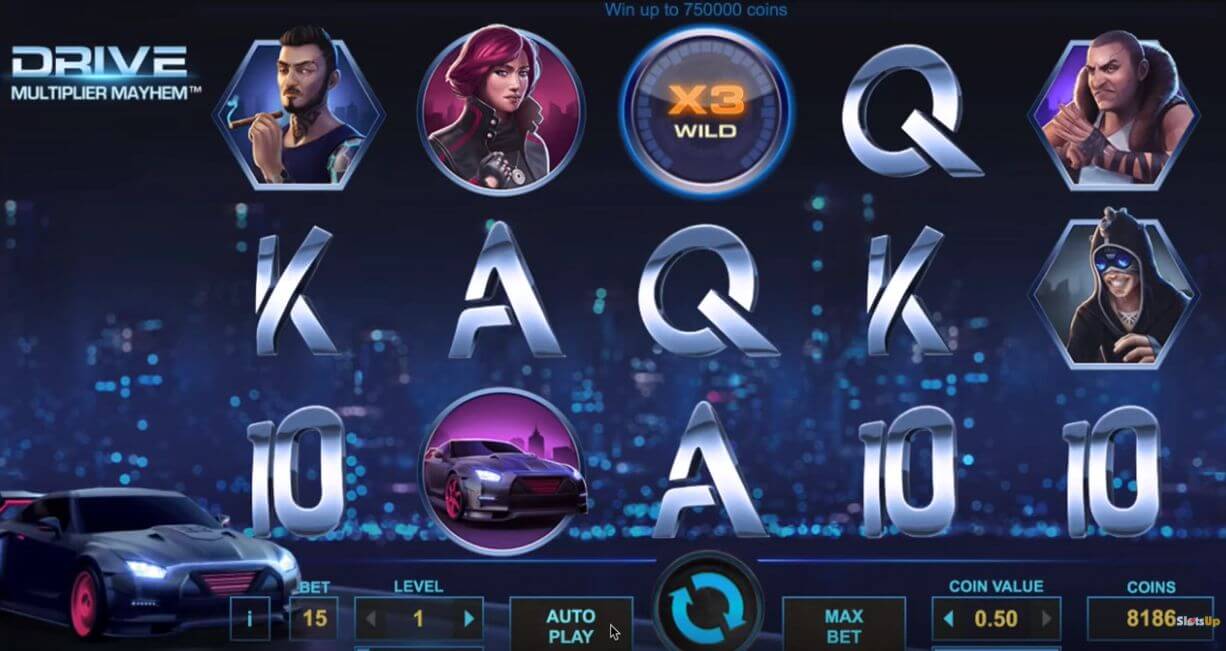 Drive: Multiplier Mayhem is one of the most popular video slots from NetEnt, and the game is built around a 5-reel, 3-row format. There are a total of 15 fixed paylines (which means they cannot be adjusted.) The game features a unique-looking (and somewhat futuristic) theme, and you'll be participating in a fast-paced drag race.
There's a couple of features to mention, and the first is the multiplier wilds. During the base-game, wild symbols can land on any of the five reels. If a wild symbol lands on the first reel, it will not have a multiplier attached to it. However, if a wild lands on reels 2, 3, 4 or 5, it will have either a 2X, 3X, 4X or 5X wild attached alongside. Where things get really interesting, however, is that the wilds multiply against one another. Let's say, for example, you land a wild on reels 3 and 5. This would transform the total win by 15X, as you have a 3X wild multiplie against a 5X wild.
Now, if that wasn't enough, Drive: Multiplier Mayhem also comes packed with an exciting free-spins bonus. This is triggered by landing three of the car scatter symbols on the middle three reels. You will then begin the free-spins round, with 10 spins initially. Now, you'll notice that new Nitro symbols have been placed onto the reels. Once you manage to collect three of these, you'll be awarded additional free-spins, and an overlay wild. This means that there will be at least one wild symbol on every spin.
If you manage to collect another three Nitro symbols you'll win more free-spins – and another overlay wild is added to the reels. There's then one final stage, and if you manage to reach this stage, you'll win even more free-spins – and you'll have a guaranteed three overlay wild symbols on the reels. There's some mega potential in Drive: Multiplier Mayhem, and it's evident that NetEnt have managed to build a near-faultless game here.
What Are Your Favourite Car-Themed Slots?
Do you agree with the titles we've listed above? Have you played the games yourself – any big wins you want to share with the forum? Or, perhaps, you've got car-themed slots you think should be recommended? Let us know in the forum – we're always keen to hear what your favourite games are!