Synalogik Receives Queen's Award for Innovation from HRH the Duke of Gloucester
By Simon Wright Aug 3, 2022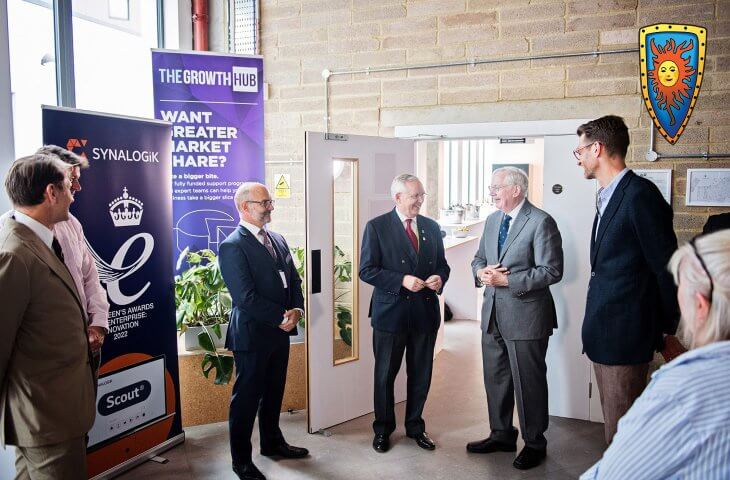 SYNALOGiK, a leading provider of data aggregation, automation and risk identification software solutions for compliance and fraud investigations, yesterday held their Queen's Award for Innovation Presentation Ceremony at Hub8 in Cheltenham.
The award trophy was presented by HRH Prince Richard, the Duke of Gloucester.
The innovation award was given due to their data aggregation platform, Scout®, and its contribution to fighting financial crime and helping organisations with regulatory compliance across both the public and private sector.
Since its creation in 2018, Scout® has quickly gained clients across the gambling, insurance, banking, legal and public sector; including Entain Plc, Buzz Bingo, Betway, Hastings Direct, AIG Life and various Government agencies.
It is used by 25% of the gambling industry, (by operator revenue), offering the first ever automated enhanced due diligence data aggregation and reporting solution.
Gareth Mussell, CEO at Synalogik, said: "It is an honour to receive such a prestigious award as the Queen's Award for Innovation.  I am immensely proud that our solution is being used to identify, investigate and detect criminality in a number of industries across the world."
"The award is an outstanding achievement for the team, it clearly highlights their hard work and commitment over the past three years."
"2022 has been a huge year for us, we started the year with new investment, our team has doubled in size, and we have opened a new office in Chester.  Our product roadmap is extremely exciting, and we are looking forward to launching new functionality over the coming months."
Synalogik's solution, Scout®, is a unique platform that enables organisations to automate data aggregation from multiple disparate sources, identify risk and report findings in seconds.  Scout® is the "Single Intelligence Environment"; permitting concurrent searches over multiple live data sources to be analysed.
The system integrates internal, third party and open-source data into automated workflows so that teams no longer need to log in and out of different data silos before decisions can be made. The result is swifter and more rigorous decision making, whether you're looking for fraud, money laundering or Regulator-driven compliance checks.
It provides gambling operators with significant operational efficiencies and takes the human-error out of existing manual player investigations – making it possible for operators to better meet their affordability and AML regulatory compliance needs.
Now in its 56th year, the Queen's Awards for Enterprise are the most prestigious business awards in the country, with winning businesses able to use the esteemed Queen's Awards Emblem for the next five years.
It is an internationally recognised symbol of excellence. Winners have demonstrated outstanding success in their respective fields of innovation, international trade and sustainable development.