Swintt release Rock n' Ways XtraWays™
By Simon Wright Nov 25, 2021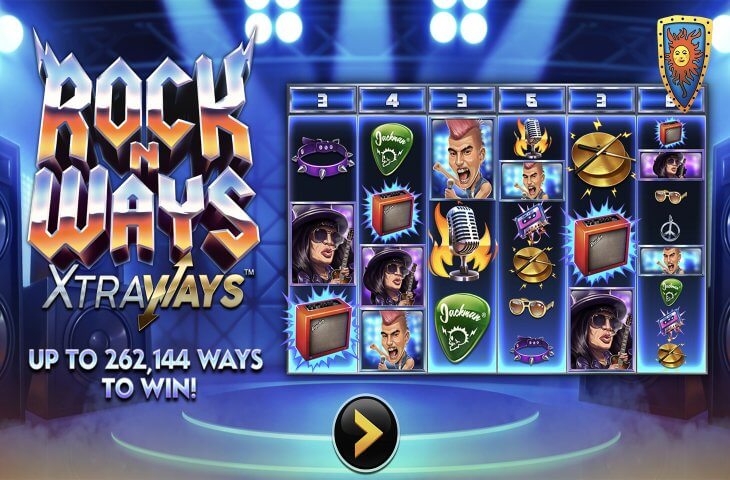 November has been somewhat of a productive month for the casino game studio Swintt, at the start of the month saw them team up with the casino Mr Vegas, with their slot portfolio going live with the popular European facing operator. This was followed up on the 10th November by the news that they had reached agreement to distribute their games to the Ukraine facing Vulkan Casino.
Today's announcement from Swintt sees them release their latest slot game, Rock n' Ways XtraWays™, their much-anticipated hard-rocking, multiple pay ways slot game.
Undoubtedly the biggest launch from the in-demand software provider this winter, Rock n' Ways XtraWays™ arrives with all the fanfare you'd expect from a sell-out stadium tour, with players treated to a scintillating display of pyrotechnics as the game's hard-rocking riffs rumble out of their speakers.
As the spotlights shine down on a beautifully designed game board that comes tricked out with a full line-up of unique symbols including rockers, microphones, cymbals and guitar picks, the first thing players will notice are the large silver numbers displayed in an extra space above each of the reels.
These denote the number of symbols that will feature in each column at the start of the next spin, with any star icons that appear increasing this amount up to a maximum of eight. If no further stars are hit on the next spin, the number on each reel will decrease by one, but if additional stars are collected, their values will then be added to the game board to create a maximum reel matrix of 6×8.
With this full layout unlocked, players will have access to Rock n' Ways XtraWays™ maximum 262,144 ways to win, with this hugely improving their hit rate and increasing the chances of landing the game's top jackpot of 25,000x their bet. More reel spaces also mean more opportunities to land special platinum disc scatter symbols, with these being key to triggering the game's main Free Spins feature.
Hitting 3, 4, 5 or 6 scatter symbols in a single spin will award 10, 15, 20 or 25 spins respectively, with these free games then taking place on the currently active reel layout. The main difference between Free Spins and the regular base game is that the number of symbols featured on each reel will not decrease when no stars are hit, enabling players to continually expand the game board for huge wins.
As a final encore, Rock n' Ways XtraWays™ also features a wild symbol that can substitute for any regular base game icon. Fittingly depicted as a hand throwing the heavy metal devil horns, these special icons make it easier to complete winning payway combinations and appear only on reels two through six.
David Mann, Chief Commercial Officer at Swintt, said: "At Swintt, we always aim to give the crowd what it wants, and our hard-rocking new Rock n' Ways XtraWays™ slot is certain to bring down the house with its monster jackpot and innovative payways system."
"With up to 262,144 ways to win available on each and every spin, our headline act is a musical masterpiece that will hit all the right notes with players as they rock their way to incredible prizes."