Sweden's Self Exclusion Register Spelpaus.se Relaunched
By Simon Wright May 31, 2022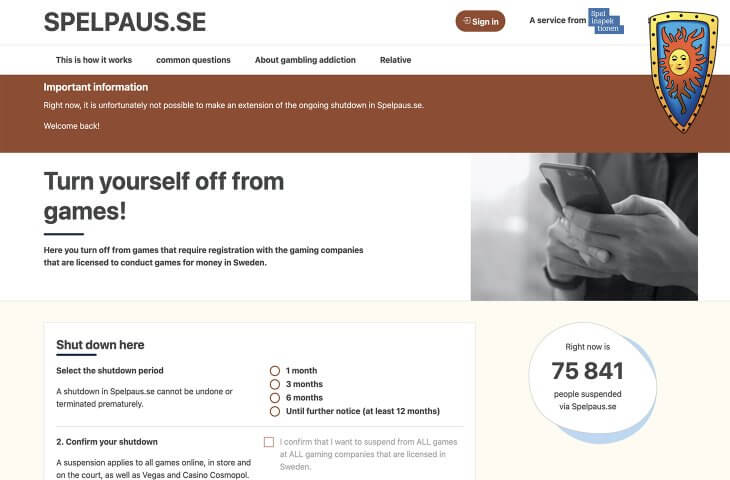 The Swedish self exclusion register Spelpaus.se which enables players to self exclude from all licensed Swedish iGaming operators has undergone somewhat of a makeover, with the new and improved site promising to being more user friendly as a result.
In an announcement made this morning on the  Swedish Gaming Regulators site Spelinspektionen, visitors are informed that Spelpaus.se now makes it easier than ever for players to self exclude using their service.
As part of the terms of their operators licence issued by Spelinspektionen, all licence holders have to ensure that they work with Spelpaus.se and that any individual that uses Spelpaus.se to self exclude, are excluded from playing on all and any Swedish licensed gaming site.
Established just over three years ago and similar to Gamstop in the UK, Spelpaus.se is seen as a useful tool to ensure the promotion of responsible gambling.
In the three years Spelpaus.se has been in operation, a little over 75,000 people have registered with their service and self excluded.
Speaking about the service, Camilla Rosenberg, Director General of the Swedish Gaming Inspectorate said: "If you play too much and for more money than you can afford, it is important to be able to easily and quickly break that pattern and take a break from playing."
"Spelpaus.se does not solve a gambling addiction, but can mean that you have time to reflect on your gambling habits and the opportunity to change them for the better or choose not to play again."
Those individuals who have registered with Spelpaus.se prior to the new update unveiled to the site and service today, are not required to do anything and their self exclusion will continue to remain intact.