Super 30 Stars from Red Rake Gaming
By Dave Sawyer, Last updated Aug 17, 2023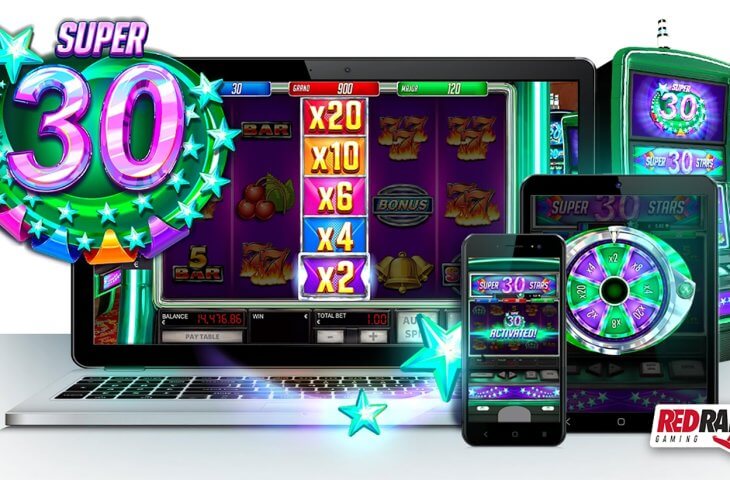 Casino game studio Red Rake Gaming has achieved  success with each instalment of its Super saga,  a trend that  they are aiming to uphold with their latest release.
Recently, Red Rake Gaming unveiled the newest addition to this renowned saga, "Super 30 Stars," anticipating another major hit. This fresh instalment promises heightened excitement and enhanced allure for players.
Presented in the popular 5×3 reel format, it retains the successful traits of its predecessors. Adding to its appeal, a thrilling innovation emerges: the "Super 30 Wild" symbol, accompanied by a distinctive multiplier bar. More features equate to more enjoyment.
The "Super 30 Wild" symbol emerges randomly on the reels, and when triggered, it activates the Super 30 multiplier reel, transforming it into a complete Wild with the chosen multiplier.
The game also encompasses the following features, recognisable to players and followers of this remarkable saga: "Super 25 Stars Wild," amping up excitement with its side multiplier panel; the "Crystallize Symbol," supplemented by extra multipliers, intensifying each spin's thrill; immersive mini-games like "Stars Fusion," "Lucky Stars," and "Frenzy Wheel," injecting dynamism and amusement; and naturally, the free spins feature that enables players to augment their wins.
These features, among others, craft an unparalleled and extraordinary gaming experience.
This latest video slot further enriches the saga's extraordinary narrative, poised to resonate with players due to its music and retro aesthetic. Its nostalgic charm coupled with appealing features ensures its appeal to a global audience in pursuit of entertainment.
The highly anticipated Super 30 Stars made its debut on August 17th across all online casinos that feature game content from Red Rake Gaming. This esteemed casino game provider has seamlessly integrated the new video slot into its tournament toolkit, alongside other recent releases, heightening player excitement.
This enables players to immerse themselves in the exhilaration of playing Super 30 Stars while engaging in Red Rake Gaming's electrifying tournaments.