Sportech Racing Acquires Bump
By Casinomeister Jun 20, 2014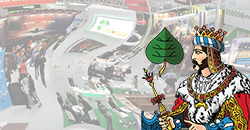 Bump to leverage Sportech's expertise in development of new products
Sportech Racing and Digital has acquired Bump Worldwide Inc, a provider of electronic 50/50 raffles conducted during professional sporting events.
The partnerships between Bump and the professional sports teams raise money for the teams' charitable foundations, complementing Sportech's existing, long-standing charitable activities in the UK.
Bump currently has license agreements in place with the charitable foundations of 12 professional sports teams in the NHL, NBA, NFL, MLS and NASCAR, including high-profile North American franchises such as the Detroit Lions, Chicago Bulls and Vancouver Canucks.
The company employs technology and sales processes that are aligned with those used by Sportech Racing and Digital for its racing, off-track betting, and casino customers.
Bump's proprietary mobile platform will leverage the digital and gaming expertise of Sportech Racing and Digital allowing it to develop new platforms and applications that will offer opportunities for engaging fan experiences inside and outside of the stadium experience.
Current members of the Bump management team, led by founder and President Dan Tanenbaum, will continue in their roles under the direction of Andrew Gaughan, President of Sportech Racing and Digital.
"The acquisition of Bump further diversifies Sportech's presence in the North American sports and gaming markets, adding professional sports team foundations to Sportech's customer base and 50/50 raffles to our slate of products, along with a talented and innovative management team," Gaughan said.
Dan Tanenbaum, president of Bump Worldwide Inc., added: "With its access to new markets, sporting events and complementary technologies, Sportech is the perfect partner for achieving Bump's goals for growth and innovation, and the entire Bump team is excited to be a part of the Sportech organization."
Online Casino News Courtesy of Infopowa
More news
here.