Scarab Auto Roulette from Real Dealer
By Dave Sawyer, Last updated Jun 30, 2023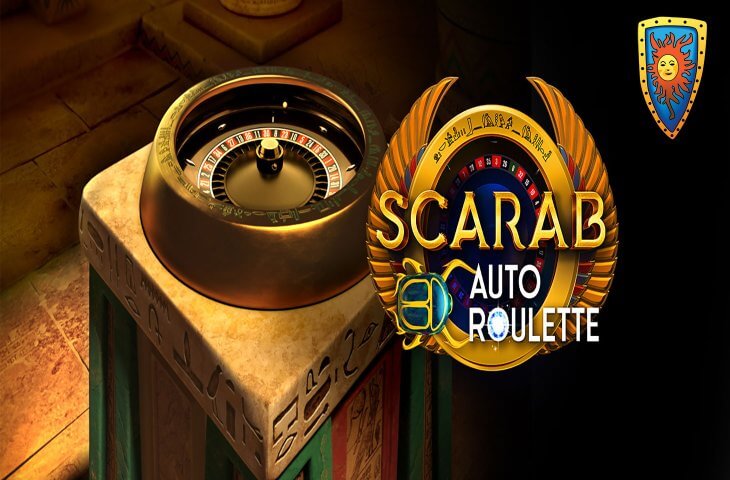 Real Dealer Studios the innovative live casino game studio who are based in Malta and have a mission to produce a ground-breaking line of online casino games that merge Hollywood-style cinematography with RNG gameplay, have this week announced the release of their latest game, Scarab Auto Roulette.
Promising to take players  on a journey to Ancient Egypt in their latest release, Scarab Auto Roulette, the game transports players to the mysterious Temple of the Scarab where among the ancient columns, murals and hieroglyphs they will find a gilded roulette wheel that has the potential to summon incredible riches.
Creating a game around such a powerful, dramatic theme, an approach borrowed from the world of online slots, is Real Dealer's way of bringing that same novelty and excitement into the online table games arena, which is dominated by the classic casino look.
To ensure that Scarab Auto Roulette is as authentic as it is engaging, Real Dealer combined high-quality video of a physical roulette wheel in action with a carefully constructed CGI environment. The resulting video footage was then incorporated into the game's RNG framework to create stunning visuals.
Real Dealer's games differ from other online casino products in their use of Cinematic RNG, an approach that uses professional actors, film directors and post-production crew to create Hollywood film-quality footage of dealers and gameplay.
When integrated into an RNG game framework, the carefully edited productions provide the player with a one-on-one, authentic online casino experience where they are made to feel like a VIP.
Shane Cotter, Chief Product Officer at Real Dealer Studios, said: "Themed slot games are hugely popular, but studios have not really taken the same approach to table games. We wanted to bring some of that entertainment value to the table game market and that's exactly what we have done with Scarab Auto Roulette."
"Ancient Egypt is one of the most consistently successful themes in iGaming, so it made sense to create a game around this while also putting our own unique twist on it."
"Scarab Auto Roulette really is a visually striking game that also delivers plenty of thrilling gameplay and we look forward to seeing players enter the Temple of the Scarab in search of their own riches."
This latest release comes just a month after Real Dealer introduced to the operators that feature their game content Dealers Club Roulette.