SBC sets new records with Betting on Sports 2019
By Simon Wright, Last updated Feb 4, 2021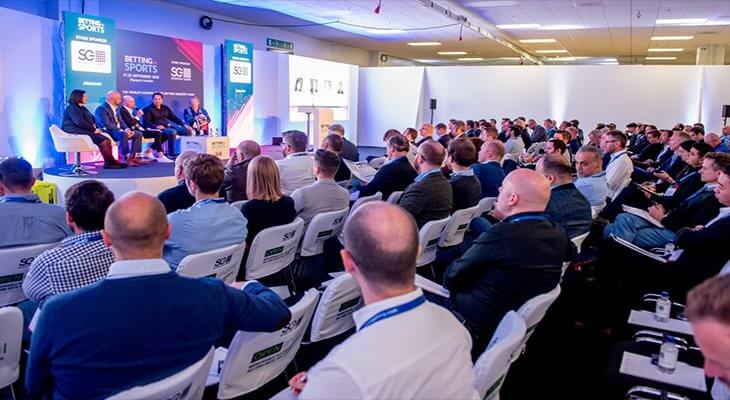 Visitors to last month's Betting on Sports and CasinoBeats Summit events in London have given it an overwhelming show of support through the post-event survey, in which 99% of respondents said that they would recommend the conference to colleagues.
The feedback from the event has been overwhelmingly positive and the post-event delegate survey found that:
100% of survey respondents are either very likely or likely to attend again
94% rated the relevance of the content as either excellent or good
84% rated the speakers as either excellent or good
Kresimir Spajic, Ronnie O'Sullivan, Lloyd Danzig and Marco Blume were among the favourite speakers
Rasmus Sojmark, SBC Founder & CEO, said: "The feedback we've had from exhibitors, sponsors and delegates about this year's Betting on Sports has been phenomenal. It was already established as the essential date on the industry calendar, but we've worked tirelessly over the last 12 months to improve every element of it and the whole team are delighted by how well everything came together to create our biggest and most successful event yet."
Betting on Sports is well known for hosting decision makers in the sports betting industry, a fact confirmed by 25% of attendees being C-level executives and the news that delegates travelled from no fewer than 58 countries to take part.
Sojmark added: "With a record number of attendees and exhibitors, we have now outgrown our space in London. This is why we will be hosting our September event in Barcelona next year under the new banner of SBC Summit. By bringing all the elements of this year's show onto one floor in one of the most exciting international cities in the world, we plan on 2020's event to be even better."
Delegates were treated to a selection of more than 300 high-level speakers sharing insights across eight Betting on Sports conference tracks, as well as the inaugural SBC Safer Gambling Forum, the second edition of CasinoBeats Summit and the specialist Payment Expert Forum and Digital Marketing Forum.
The high-quality speaker line-up featured the CEOs of a host of major international operators, including Jesper Svensson (Betsson), JD Duarte (Betcris), Paris Smith (Pinnacle), Sergey Portnov (Parimatch), John Levy (theScore Inc.), Fredrik Wastenson (Svenska Spel Sport & Casino), Lahcene Merzoug (ComeOn!), Tomas Bachman ( Hero Gaming) and Alexander Stevendahl (Videoslots.com), along with five-time world snooker champion Ronnie O'Sullivan.
Speaking after taking part in the Sport in Focus track, Portnov said: "I believe this conference is almost the only conference where true business value and true business networking take place. I really love it."
Following his appearance on a panel focused on opportunities in Latin America, Duarte said: "Betting on Sports is my favourite event of this type. It's one of the events that takes the industry most seriously. You meet people from B2B suppliers, potential partners, like-minded people who give you new ideas. So it's really a great event."
Robert Griffin, CEO of Miracl, who exhibited at Betting on Sports, said: "People are definitely here to look at, in a really fresh way, the challenges and potential solutions that exist for operators, platforms and affiliates alike. We've had a really positive experience with some fascinating insights and some great commercial leads."
Sojmark believes that Betting on Sports has set the benchmark for SBC's 2020 events programme, which includes CasinoBeats Malta (Intercontinental Malta, 25-26 March), Betting on Sports America (Meadowlands Exposition Center, New Jersey, 28-30 April), Betting on Sports Europe (Stamford Bridge, London, 2-4 June) and the inaugural SBC Summit (Fira de Barcelona, 8-11 September).
He added: "We have a busy schedule planned for 2020 with both new events and bigger editions of established ones to deliver. With the success of Betting on Sports 2019, we've given ourselves an incredibly high standard to live up to. However, I have no doubt that the SBC team will not just match it, but surpass it to create even better experiences for our valued sponsors, exhibitors, speakers and delegates."