Rock Bottom from Nolimit City
By Dave Sawyer, Last updated Sep 5, 2023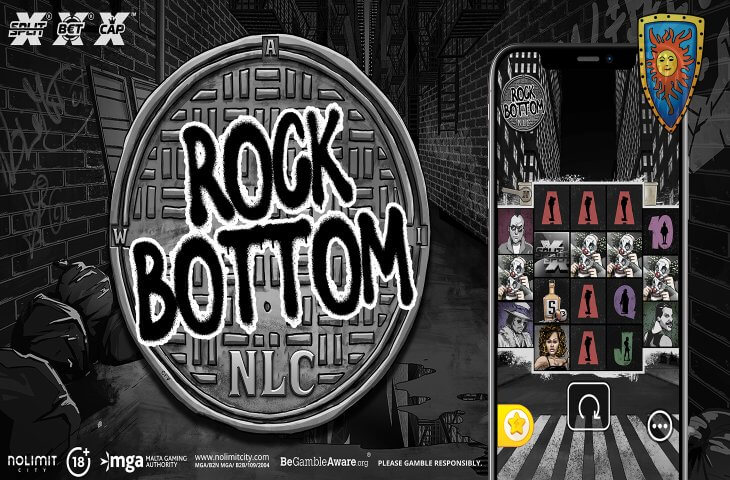 Nolimit City is still feeling the bizarre effects of their most recent release, Serial. Now, they're gearing up to release yet another unique slot experience, as they voyage deep into the darkest alleyways and shadiest streets.
The game provider has had its fair share of eccentric releases this year, with hit slots such as Road Rage and The Rave making waves over the summer, and they've taken it up a notch with their latest release, Rock Bottom!
As the title suggests, Rock Bottom isn't your everyday happy-go-lucky slot. The gloomy storyline is reflected in the stunning art style resembling a noir film – suitably bleak with splashes of colour that emphasise the feverish characters that make appearances throughout the slot.
Armed with a chaotic soundtrack Nolimit fans have come to expect, Rock Bottom leaves nothing on the table and will keep players on their toes as they await to see what they'll encounter next on their journey to Rock Bottom.
Players will find themselves spinning in the middle of a dodgy alleyway on a 3-4-4-4-3 reel setup. Nolimit's iconic xMechanics once again make an appearance in this title as it features xSplit®, xBet®, and the brand new xCap™, which makes its game debut. xCap™ provides a new and exhilarating way to multiply winnings after reaching 1969x the base bet – including the potential of hitting the max win!
The game truly shines during its bonus modes, which work on a fast-paced 5-stage progression, keeping players at the edge of their seats throughout as symbol multipliers grow, opening the possibility of some jaw-dropping wins.
In typical Nolimit fashion, Rock Bottom is highly volatile. In this world, most don't survive the madness, the lucky few who make it through the 5 stages of grief bag a maximum payout of 19,690 times the base bet.
Per Lindheimer , Product owner at Nolimit City said: "They say after hitting Rock Bottom, the only way is up. We here at Nolimit say it can get worse, much worse! This is a frenetic and highly volatile slot that will no doubt have you doubting your own eyes. Rock Bottom is a shameless Nolimit City release… This world doesn't take nicely to strangers – so tread carefully."
Rock Bottom will be available to all Nolimit City partners from November 22nd, 2022, including Casinomeister accredited casinos Rizk, Videoslots and 32Red.