Rga Welcomes Two New Appointments
By Casinomeister May 1, 2015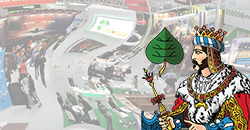 Directors of Regulatory Affairs and Government Relations
The Remote Gambling Association (RGA) has made two key appointments in Paul Morris and Pierre Tournier.
Morris, who formerly spent eight years as remote gambling lead at the British Gambling Commission, joins the RGA as Director of Regulatory Affairs. He was also a member of the GREF Board and chaired its eGambling working group and was secretary to the IAGR eGambling working group.
Tournier is due to join the trade association from August 1, 2015 when he takes up the position of Director of Government Relations.
He is currently with Instinctif Partners which he joined in 2010. Since that time he has acted as a consultant for the RGA and has been leading its work in Brussels.
Tournier has previously worked as a legal assistant at UCD in Dublin. He holds a LLM in European Law from UCD and a BA in Law from the University of Toulouse.
Clive Hawkswood, chief executive officer of the RGA said, "We are delighted that Paul and Pierre are joining the RGA. They are both very much known quantities and it would be hard to find anyone better qualified for these roles. They will be a huge asset for the industry."
Online Casino News Courtesy of Infopowa