Playtech in launch of Live Slots and Quantum Blackjack Games
By Simon Wright Dec 19, 2019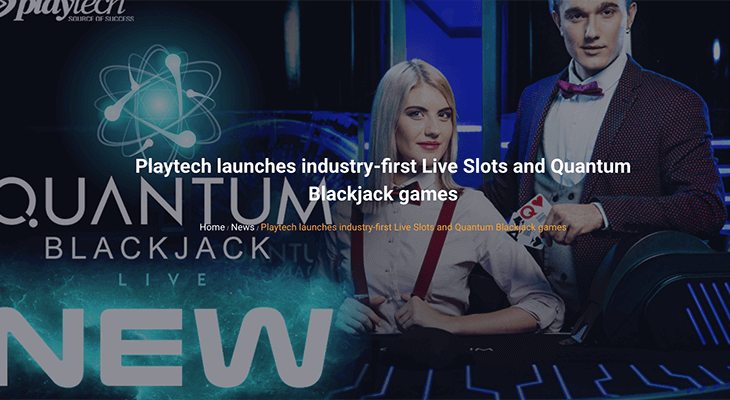 Casino software developer Playtech have this morning announced the launch of an industry first, with live slots and quantum blackjack games. With the highly popular Buffalo Blitz, the live slots is the first such game to feature 'community spins' with all the participating players playing a single game together.
Based in a live studio with a host providing the commentary, Playtech aim to bring a game show experience to their live slots. With Kevin Kilminster, Head of Innovation for Live Casino, Playtech, commenting: "2019 has been a remarkable year for the Playtech Live team, with a stronger focus than ever on experience-led innovation."
"Live Slots is a genuinely new concept within the industry, delivering an engaging new style of gameplay for players and creating an exciting cross-sell opportunity for operators."
"The popularity of live play streaming via social media demonstrates a player demand for an interactive feel – the experience you would enjoy when playing alongside others in a land-based casino. Live Slots recreates that feeling with a unique style of gameplay."
Kilminster goes on to explain the success of Quantum Roulette, with the hope the same level of success will be attributed to their Quantum Blackjack games, stating: "Quantum Roulette has been one of Playtech Live's biggest launches of the year, thanks to both its immersive visual atmosphere and the unique multiplier win concept.
"We're confident that, as the first-to-market multiplier-based Blackjack game, Quantum Blackjack will prove equally popular and set the tone for future Quantum Releases."
"With more than 20 additional Live variants also launched this year, including American Roulette, Dragon Jackpot Baccarat, All Bets Blackjack and Casino Stud Poker to name but a few, everyone at Playtech is already looking forward to raising the bar even further in 2020."
Both live slots and Quantum Blackjack are now available to play across Playtech's live casino network as of now.