PlayOJO Launch Multi Million Pound Advertising Campaign
By Simon Wright May 22, 2019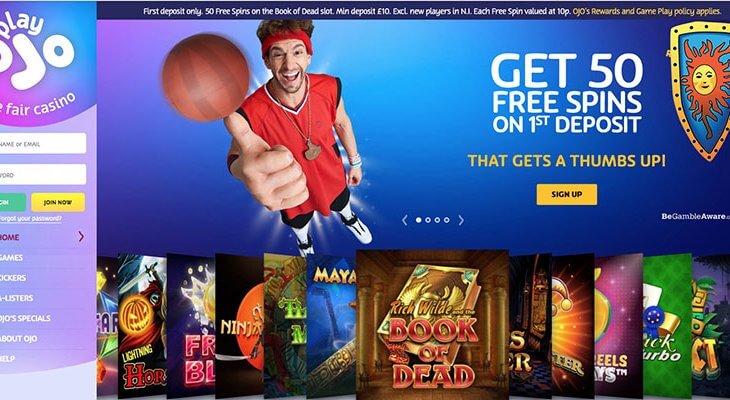 Casinomeister accredited online casino PlayOJO last week commenced a multi million pound advertising campaign, that will see the popular online casino being pushed on television, radio and digital media.
The TV ad campaign named "Thumbs Up OJO" has been directed by Djawid Hakimyar (previous work includes Mercedes and Purple Bricks) and features Royal Shakespeare Company actor, Joshua McCord.
In the advert, McCord plays Tom, a happy go-lucky PlayOJO regular who walks around town with a larger than life thumbs-up to represent the fantastic feeling he gets when he's treated fairly at PlayOJO.
As he walks down the street, Tom meets a cast of colourful characters that also play at PlayOJO and acknowledges each with his giant thumbs up.
The advert launched on 17th May as part of a £10M media campaign across the UK on key terrestrial and digital TV channels, radio and online. It is also planned for the advert to be backed with a range of social media activity, to further its reach and drive engagement to an even wider audience.
Peter Bennett, Head of Brand Marketing at PlayOJO, said: "Our latest integrated campaign reinforces our core brand proposition that PlayOJO is the fair online casino with no wagering requirements, where bonuses are paid in cash with no restrictions and by giving money back, we give players control of their money."
"We have pulled out all the stops with this campaign, bringing on board a highly successful director and established actor to really bring our messaging to life, creating a style of advertising that sets us apart from our competitors in a way that we hope will appeal to players across the UK."
"We are backing this campaign with significant media spend in order to continue to build our brand recognition to help achieve our ambition to become the UKs most recognised online casino brand by 2021."