Ninja Casino lose Swedish Licence
By Simon Wright Jun 17, 2019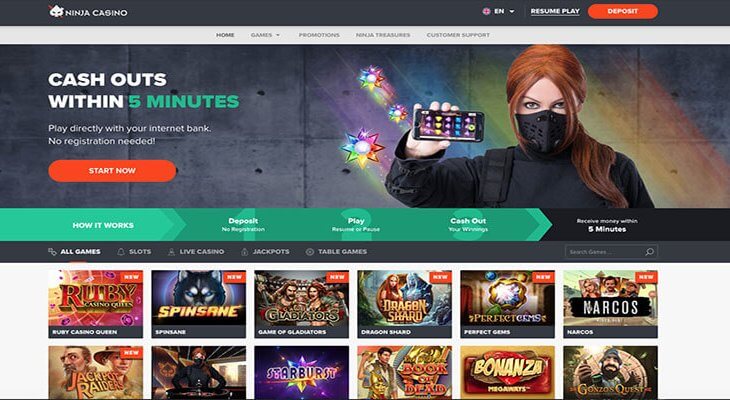 Spelinspektionen, the Swedish gaming regulator has announced this morning that they have revoked and removed the licence for Ninja Casino, with immediate effect. Citing "serious deficiencies in the company's operations" including lack of measures to prevent money laundering.
Owned by Swedish company Global Gaming 555 AB, the loss of Ninja Casino's gaming licence in Sweden is sure to be a big blow for the operator.  A press release issued this morning by Spelinspektionen reads: "Overall, the Gaming Inspectorate's review shows that SafeEnt violated several of the most central parts of the game law, which are aimed at protecting players against excessive gambling. For example, customers have been able to spend large amounts of money without the company having reacted to what the duty of care requires. In addition, customers have been able to play well beyond their own deposit limits."
It goes on to add: "SafeEnt, which is a wholly owned subsidiary of the listed company Global Gaming 555, has had a Swedish license to provide games on the ninjacasino.com and spellandet.com websites."
"The Gaming Inspectorate has, since the new gaming legislation, been introduced on January 1, 2019, on several occasions, decided on remarks, warnings and penalty fees against license holders who have not followed the law. None of these previous cases has been considered to be so serious that the license has been revoked, but this is the first time the Gaming Inspectorate makes this assessment."
"The Gaming Inspectorate will continue to focus on the licensee's work on gaming responsibility and measures against money laundering. In case of violations, the authority will continue to act vigorously."
Only last week the UK regulator the Gambling Commission took action against two operators as a result in finding failings, which included inappropriate measures to combat money laundering.