Mr Green and Redbet lose Accredited Status
By Simon Wright Jul 12, 2019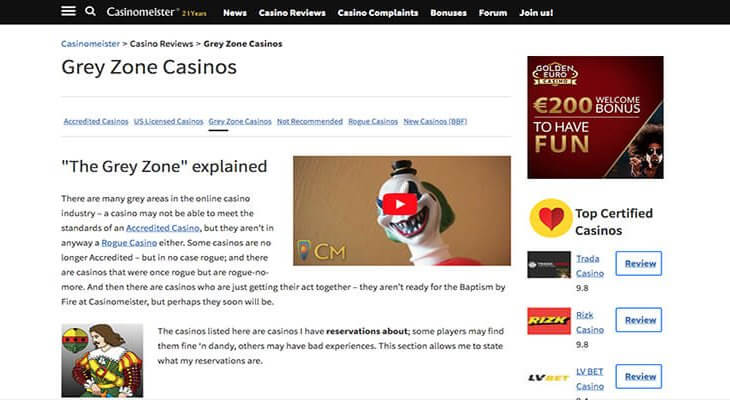 Casinomeister has taken the action to remove the accredited status from the online casinos, Mr Green and Redbet, after the casinos dragged their feet in responding to player issues, that had been brought to their attention by Casinomeister!
In December 2017, Mr Green signed an agreement to acquire Evoke Gaming, which included the Redbet online casino and subsequently both Mr Green and Redbet have been utilising the same affiliate programme, Mr Affiliate, for the past year.
Unfortunately for both Mr Green and Redbet, their removal from the accredited casinos section on Casinomeister sees them both now reside in the 'GreyZone' within the site.
Explaining his decision to remove both casinos from the accredited casinos section, Casinomeister Director Bryan Bailey, in a message on the forum said: "Both Mr Green and Redbet have been removed from the Accredited Casino section pretty much for giving a months' long run-around with some player issues."
"Max and I have been extremely patient concerning the amount of man-hours we have committed to dealing with a handful of complaints, but the staff at Mr. Green/Redbet have not been as responsive as I would have expected. Clearly not what I would have expected from one of our Accredited Casinos."
"I was promised several years ago by Redbet's representative that all of the players coming from Casinomeister would be given VIP treatment (Max is my witness). The rep from Mr. Green has been to my house and we have even hiked in the local forest to a Biergarten in the woods. We saw eye-to-eye on a number of things – most importantly – how players are to be treated and what is expected from an Accredited Casino."
"But with a recent staff change, it's a different story. Now it's speak-to-the-hand – and a no-can-do attitude towards Casinomeister to communicate about player issues. So with a heavy heart, Mr. Green and Redbet are now listed in the Grey Zone section of the reviews. I am sure most players won't have problems there, but if you do we won't be able to help."