Monzo calls for Government to Force all Banks to allow Customers to Block Gambling Transactions
By Dave Sawyer Feb 17, 2021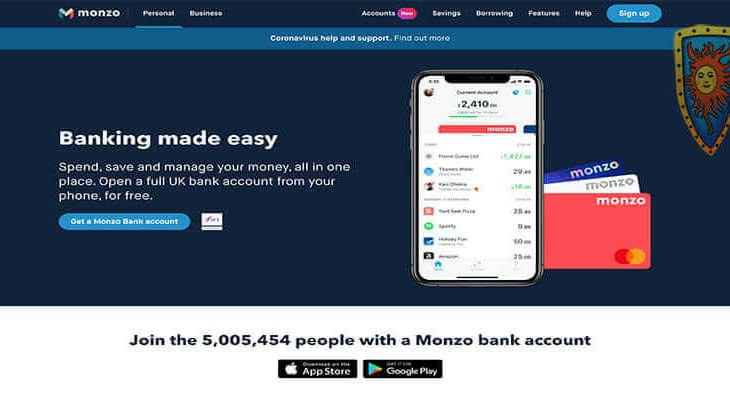 The UK online bank Monzo which was founded six years ago in 2015, which is notable for in 2016 recording the quickest crowdfunding campaign to raise £1m in just 96 seconds via the Crowdcube investment platform, has this week called on the UK government to force all UK banks to provide their customers with the facility to block gambling transactions on their bank accounts.
Monzo which is classed as a 'Challenger Bank', who have over 5 million customers, are of the view that all banks operating and servicing customers in the UK should allow all customers the ability to block all and any gambling transactions on their accounts.
Currently the main high street banks in the UK do provide this service to their customers however, some 40% of UK banking customers do not have the ability to do so.
Monzo have written to the Sports Minister Nigel Huddleston, who himself is looking into sponsorship provided by betting companies in sport and has in the past written to CEO's of the big five gambling companies, calling for them to do more to help gambling companies.
With Monzo in their letter to Huddleston requesting that all providers of bank accounts should make the ability and facility to block gambling transactions available to everyone.
Of their 5 million customers, Monzo have publicly revealed that 275,000 of their customers have activated the gambling block on their accounts and of those that have used this facility, only 10% of those have at some stage deactivated the block.
TS Anil Chief Executive Officer of Monzo stated: "We believe the government should take the opportunity afforded by the Gambling Act review to make sure every consumer in the UK can access these blocks, regardless of who they bank with." 
The letter which was also co-signed by researchers from the University of Bristol also said: "These tools are simple to build, proven to work, and will help protect hundreds of thousands of people."
"Ultimately, the Gambling Act review offers a unique opportunity to create a world-leading self exclusion framework in the UK to reduce gambling harms, and help consumers gain control of their finances. The rise in online gambling, and new ways to pay, requires a robust response from the government."
Commenting on Monzo's actions, a spokesperson from the Betting and Gaming Council which numbers the likes of Bet365, Entain Group's Ladbrokes and Flutter Entertainment's Paddy Power, said: "We support all forms of blocking capabilities and are encouraged by the continued uptake by banks of these functions."