Legends Sport Betting's King Found Guilty (update)
By Casinomeister May 8, 2015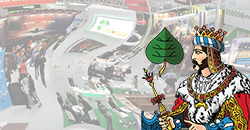 The end of a two year fight for online sportsbetting operator
The 2013 dismantling of the Legends online sports betting ring in the United States (see previous InfoPowa reports) entered its closing chapter late last week in an Oklahoma City federal court when one of the principle defendants, Bartice King (44), was found guilty of conducting an illegal gambling business and engaging in a conspiracy to commit money laundering.
The jury verdict followed a two week court battle in which prosecutors claimed that over a decade the Legends criminal enterprise had handled over a billion dollars in illegal bets made by US residents.
Other principle figures among the 34 persons originally arrested in the break-up of the ring included Philip Gurian, who was convicted a year ago and sentenced to time served, 3 years' probation, a $100,000 fine and forfeiture of $10 million, and Michelle Lasso was fined $25,000 around the same time and ordered deported to Panama following her conviction on money laundering charges (see previous InfoPowa reports).
Online Casino News Courtesy of Infopowa