Kindred Group To Acquire 32red Group
By Casinomeister Feb 24, 2017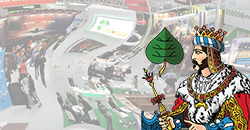 Former Unibet online gambling group prepared to spend GBP176 million on deal
The Reuters news agency reported Thursday that the Kindred online gambling group (formerly known as Unibet) has announced its planned acquisition of the 32Red online gambling group for a consideration of almost GBP 176 million.
The acquisition will further strengthen Kindred's position in the UK online gambling market, a statement from the company claimed, advising that Kindred has made a GBP 175.6 million cash offer for 32Red, with the cash funded from new acquisition facilities of up to GBP 178 million, specifically for the purposes of this transaction.
32Red shareholders will be entitled to receive GBP 1.96 per share and will also be entitled to receive a second interim dividend of GBP 0.04 per share, the company advised, noting that the bid, together with the approved dividend represents a premium of approximately 16.3 percent to the closing price per 32Red share of 172 pence on .
In 2015, 32Red generated Net Gaming Revenues of GBP 48.7 million and EBITDA of GBP 5.2 million. On , 32Red issued a Post Close Trading update for the year ended and announced Net Gaming Revenues of GBP 62.3 million. The company is licensed and regulated in Gibraltar, the UK and Italy and is listed on the AIM market of the London Stock Exchange. It currently boasts 125 employees based in Gibraltar.
"The acquisition of 32Red is consistent with our multi-brand strategy and stated desire to grow our business in locally regulated and soon to be regulated markets. 32Red is a high quality, customer-focused business with a similar culture to Kindred Group's and we are delighted to welcome 32Red and its team into the Kindred family and look forward to further developing the brand going forward," said Henrik Tjärnström, CEO of Kindred Group.
Online Casino News Courtesy of Infopowa