International Casino Exhibition (ICE) 2017
By Casinomeister, Last updated Jul 27, 2018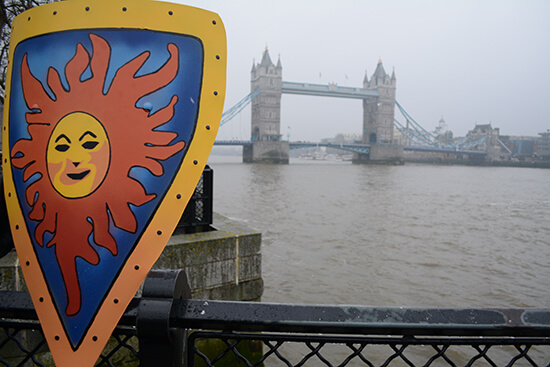 London Trip 2017: Battered fish, pubs, and i-gaming…
I love food. And last year, I began this report with a short discussion about my new found way of eating: pescatarian. And since then, I've pretty much stuck to that. Only a couple of times have I bitten into a greasy chunk of a Bratwurst – enjoyed it, but not all that much. But after being accused of being a hypocrite by my son (I eat fish – a living being, but not animals), I modified my philosophy (thus diet) as so eat anything wild. Wild fish and wild game – nothing farmed. If they have a chance to escape (like a fish), then it's fair, right?. So in the past year, I've eaten wild boar (once), and a goose – and plenty of fish.
And plenty of fish were to be consumed in London via fish n' chips (in pubs of course) during my 17th annual visit to the International Casino Exhibition. Our first stop on Monday was at the Sherlock Holms Pub where we caught up on Casinomeister business – discussing things like current forum issues and the pending relaunch of the site. Actually, I have to admit – the fish n' chips here are really very good.
From there we meandered our way towards Cannon street. Our annual dinner with some of the folks from the Kahnawake Gaming Commission, Microgaming, Jetset, and Sue Schneider – held at The Don near Cannon Street station. What a nice evening. We spoke about some of the developments at the KGC (which I will discuss later), recent family vacations, and unfortunately – and sadly – about the untimely death of a webmaster friend: Belgamo. He was loved by his webmaster buddies – we had met a number of times in Las Vegas, and at a few affiliate conferences. He was a senior member of our forum, a truly likeable person. A great guy, and he will be missed. This is very sad indeed. Cancer sucks.
The following morning Max and I jumped on the tube from Embankment headed towards Tower Hill Station in order to take the DLR from there. It's about a 45-50 minute train ride in total, and it sucks. What a dredge of a rain ride, but the ICE has gotten so big – obscenely big, that the Excel is the only place able to host it. Its massive structure is located in the desolate aptly named "docklands". It's huge, it's Trump huge – a seemingly endless sea of casino products and people.
The ICE is now the largest casino industry held event annually. The G2E, which is in Vegas, attracted 27,000 last October. The ICE this year attracted about 28,000. And being at the Excel – well it literally takes three days to wander the expo hall's floor.
The problem with the Excel, is that once you are there – you're stuck there. The food is overpriced processed meals that you'd find at a train station or mall. But I'd have to say, there is a pub/tapas bar/pizzeria at the far end of the Excel. About a 10 minute walk from one end to the other.
We first met with the folks at the
Kahnawake Gaming Commission
. They went through their complaints for 2016, (you can find a summary here:
KGC Complaints summary 2016
), but most importantly their self-exclusion policy. I would say that the KGC's SE policy is the best in the business. It's a no BS policy – once you submit the SE form, and you are verified, you are blocked permanently from all KGC licensed properties. You heard that correctly, permanently. No cooling off period – no temporary block – it's permanent. They had hired a recovering problem gambler as a consultant to help draft their policies – which are located on their website. Their SE policy applies to Kahnawake land-based operations as well. They have a tiered approach, 6 months / 2 years / permanent.
They also had a big mid-year spike in complaints, this was largely caused by payment delays at Bovada (remember how they switched to Bitcoin?).
And this year's decision to not accept US facing operators caused a drop in their licensees, 26 down to 19. Which is sad because they are pretty much the most transparent and player facing licensing jurisdiction on the planet. But who wants to piss off the Don?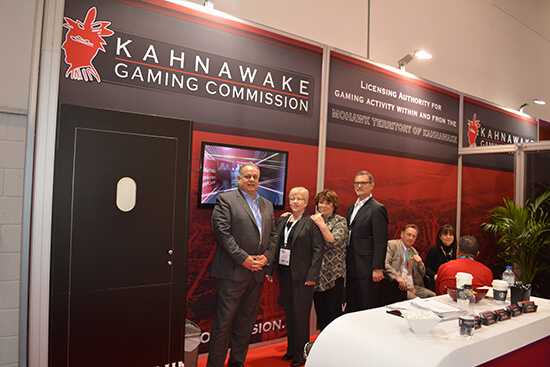 From there we wandered a bit and discussed the complexity of other licensing jurisdictions, and their approach to self exclusion. If a player decides he has a gambling problem and wants to cool off – then that should be it. Period – account permanently closed. It's like a person saying "I think I am an alcoholic, I'm going to cut down drinking for three months." Nope – they should be shut down for good. Once a gambling problem – always a gambling problem.
But we should always remind ourselves that online gambling is much safer than offline. No matter what douchebags like Sheldon Adelson say, you can be protected at an online casino way easier then strolling into a land based casino and plopping down in a chair and pulling out your wallet.
And then we reminded ourselves of the upcoming Meister Meeting…
Voice from the past – ICE 2004
The exhibition floor was huge, and it took a while to find the online gaming section of the ICE. It was disappointingly small. Only a handful of booths filled two rows and several of the leading suppliers of gaming software were not represented. Why? Because it seems they have no need to rent a space (Microgaming for one) since they are not taking on new clients. Makes sense, but it would have been nice to see a demonstration of what is to come…Microgaming for example is always developing new games. And…sources tell me that some fantastic new slots are due out soon (you think Thunderstruck and Spring Break are groovy, just wait). But anyway, many of these reps were loitering around, they just didn't have booths. No problem with that since I can still get what I want. And what do I want? I want information.
Related Article: London 2017 The Meister Meeting