ICE London: The Meister Meeting 2017
By Casinomeister Mar 17, 2017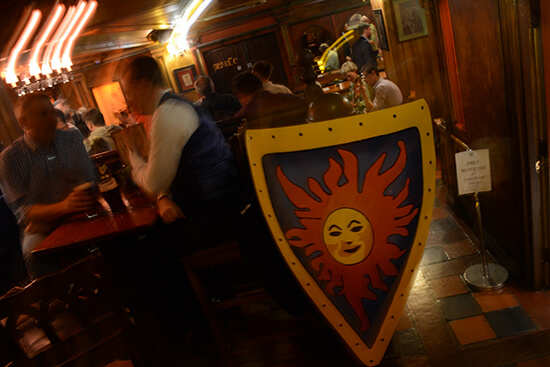 London Trip 2017: The Meister Meeting 2017
It was probably the best one so far. If you weren't there, well…that's too bad. This was the tenth annual Meister Meeting – the eighth time we've held it at Waxy O'Conner's in Leicester Square. It was really marvelous – Jetset was there and given his award for his Achievements in the Forum, and so was Daniel who was selected Best Casino Manager 2016 at Casinomeister. Dunover, Tirilej, Andy Hinkly, Goatwack, KAsino King, Gourdiecollins, and a slew of guests, three Irish musicians – plenty of beer and food that lasted until about 9pm when I cut off the tab. 🙂 Thanks to all who made it another life-lasting memory.
The rest of the ICE went by in a blur – so much to see, and some very interesting insights. We met up with the folks from IBAS and were able to resolve some communications issues we've been having of late. IBAS is the Independent Betting Adjudication Service which is a leading ADR (Alternative Disputes Resolution service) in the UK. In fact, they are one of the key services used by UK players and sanctioned by the UKGC. We have made a vis-a-vis connection here – which is great. Many of the UK based cases that we've dealt with in the past have gone through IBAS and are pending an outcome. We have a few members whose cases are at this stage – it's great to finally have people we can talk to there.
Netent proved to be spectacular. They have a new virtual reality game (Gonzo's Quest) which is pretty awesome. Yeah, it's a novelty – but it's a really cool effect watching the blocks tumble from the sky and land in from of you making up the slot. Pretty spectacular – but it's still in the development stage.
I spoke with Simon Hammond, Netent's Chief Product Officer, and uploaded our interview here. Interview with Simon Hammon from NetEnt. Time was limited, and I have some follow up questions that I will be posing at an upcoming date. So stay tuned for that.
A new game provider, Just For The Win, showcased their premier game. It's a 20 line slot showcasing a feature that collects all wilds in re-spin and free spins and gives them back to the player on the last spin. Max win on a screen of wilds is 500x which happens more often then expected. It is really an awesome game, and should be coming to a casino near you hopefully in May. These guys have developed some other fantastic games in the past (with a different developer), and I'm excited on what is in store for slot players as this company gets off the ground.
That afternoon – it was our annual liquid lunch with the iNetbet guys, which is always a pleasure. We were nestled in the Pollen Street Social. A somewhat casual but Michelin starred restaurant. I asked for the Turbot – pronounced Tur-butt – but the waiter kept dropping the T making it sound like a type of turbo-charged engine. Perhaps he was trying to be posh. I used to catch Turbot when I was a Halibut fisherman in Alaska, so I know how to say the word. We'd throw the Tur-butts back because they were a worthless fish (they are pretty ugly too). Wow, how times have changed.
We talked a bit about the US market – and about the Affiliate Edge meltdown – what a shame. But it was a real pleasant afternoon ending with a whisky or two before we left.
And from there it was back to The Chandos, one of my favorite pubs on St. Martin's Lane.
Thursday was the last day of the ICE event, and our feet were already getting worn out. Time for a lunch of Fish n' Chips – and there is actually a publish restaurant at the far end of the place which wasn't too bad.
We left bidding farewell to an awesomely humongous show. How things have changed since my first ICE (2001 at Earl's Court). The "online" products where located upstairs, and each booth was partitioned off four meters by four meters. Nothing but a table, a couple of chairs, and some placards and two or three employees – and the CEO or owners. We were the red-headed step-children of the casino industry. Look at it now! LOL. It's an absolutely massive amount of growth that the industry has had in the past 17 years.
I even met one operator who mentioned that this was his 40th ICE. He was in the business long before the Internet. Amazing.
That afternoon, Max and I meandered to the LAC official hotel by Tower Hill, met a few friendly faces to include the awesome team behind Trada Casino – and the charming Rachel who is leading the pack with an Meister Award winning support team. These people are what makes this industry a joy to work in. They are just really cool people – folks you want to hang around, have a pint or two and chit chat. Great stuff coming from Trada casino.
Max and I crossed the street to the Princess of Prussia pub – a very cool place. Very pub-ish if you know what I mean. I met with some of the moderators discussing what more we can do with the Meister Minions – and I think you'll be pleasantly surprised.
The Meister Minions, one of the most awesomeness membership privileges of our forum, it's a user group that you can join – and it's there so that you can contribute to the Casinomeister data we collect on any casino, not just the accredited ones. At the moment, we've been utilizing the MM's for collecting cash out times, reverse times, etc., which is great. But we are going to start using them as secret shoppers: testing casino customer support, their response time, the ID doc process, etc. We can start giving accurate accounts on how casinos react to certain situations. This will be great – truly great.
We also came to the conclusion that the Reservation should be renamed to "Grey Zone". What prompted this was that one of the Kahnawakes asked, "Why reservation?" which got us to thinking that it was a little insensitive even though it was to mean the casinos I have reservations about. Grey Zone makes much more sense. For a newbie who is not used to the CM lingo here, "reservation" needs to be explained; "grey zone" does not. Plus, it will give casinos the incentive to move out of the grey zone – I mean, who wants to be considered "grey", or any shade of it?
After our meeting, we met up with the outstanding managers and operators of All British Casino. They had a meet-and-greet session at the same pub – it was really nice catching up with a number of folks there. And glancing at our watches, we were off. We just had time to make it to a dinner at Rules.
Are there any Downton Abbey fans out there? Well, admittingly so – I am thanks to my youngest daughter. And I remember watching the second season (I think) – and there they were – the Crawley's were eating at Rules! "OMG – I've been there!" I thought (I have with 32Red) – so we were sure to have a dinner this time 'round at Rules. It's the oldest restaurant in London, privately owned since 1798 and they specialize in game – and some fish (I had the Hal
ibut – pronounced hali-butt, not hali-bu).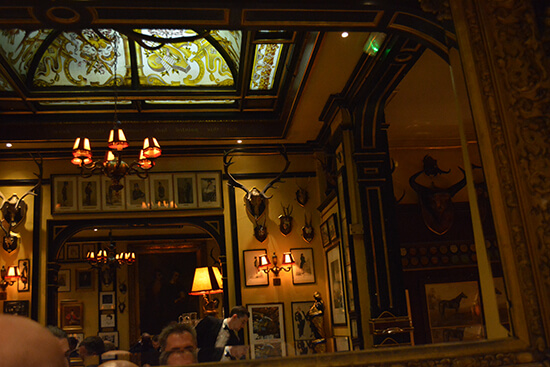 What a splendid night thanks to the folks at VideoSlots – winner of Casinomeister's Best Casino for 2015 and 2016. Awesome night – awesome folks.
Voice from the past – ICE 2006
That evening I strolled down to Covent Gardens to meet up with Ed Ware, Pat Harrison and others from 32Red Casino – Casinomeister's Best Casino of 2007 (and 2003 – 2006). We had reservations at Rules

Rules is the oldest restaurant in London – established in 1798 – I'd recommend it to everyone. The food is fine, but it's the observable that is amazing. I could spend hours just perusing the walls that are bedecked with memorabilia from years past. I almost got lost in thought a couple of time heading for the mens' room. Framed caricatures from the First World War – I covet them.

The 32Red crew and I traded stories and discussed just about everything except online gaming. No – we didn't talk about you too much my dear reader – at least we tried not to.
Related Article: London Affiliate Conference 2017 – Free Beer!
Photographic proof of the events can be found London 2017 ICE.