Gem of a Joker InstaPots™
By Simon Wright, Last updated Aug 15, 2022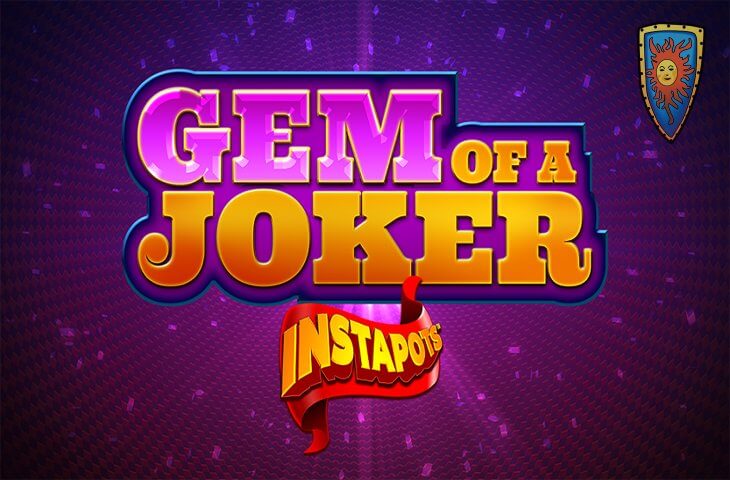 Live 5 is taking players deep into a Jester's dream in the latest slot to leave its production line, Gem of a Joker InstaPots™, which will launch exclusively with William Hill ( currently listed in the Grey Zone here on Casinomeister ) before going on global release in September.
As the name suggests, Gem of a Joker has been hooked up to Live 5's InstaPots™ feature which offers the chance for players to trigger one of five Multiplier jackpots – Mini, Minor, Major, Mega and Ultra on every spin.
These jackpots are no laughing matter; a jackpot is unlocked when between three and five InstaPots™ Scatter symbols land anywhere on the reels to award stake Multipliers of x5, x25, x50, x250 and x2,500 respectively.
InstaPots™ are not progressive so do not require a stake contribution to increment nor do they require a re-seed value once triggered. Instead, they simply pay a fixed amount each time they are hit.
The Joker action does not stop there. The Jester acts as the Mystery symbol and when they land, they animate and transform into one of the five top paying symbols including Wilds.
Gem of a Joker InstaPots™ sits at the higher end of the volatility scale and has a return to player of 94.00%. The max win potential is 2,500x the player's stake.
As with all Live 5 slots, it is available in 30+ languages and has been certified for launch in key markets including the UK, Spain, Sweden, Italy, Denmark and all Malta Jurisdictions.
Lloyd Butler, CEO of Live 5, said: "Gem of a Joker is the first game to include our InstaPots™ feature, which delivers unrivalled excitement and big win potential with each spin. That it is not progressive, nor requires a stake contribution or re-seeding, adds tremendous anticipation to the game."
"When combined with Mystery symbols, and the game's high volatility, the gameplay is fast-paced and fun. We are thrilled to be launching Gem of a Joker exclusively with William Hill and for it then to go on global release next month."
"The team really is on a roll at the moment and Gem of a Joker InstaPots™ will further establish Live 5 as a leading provider of player-favourite online casino content."