Folsom Prison from Nolimit City
By Simon Wright Jun 14, 2022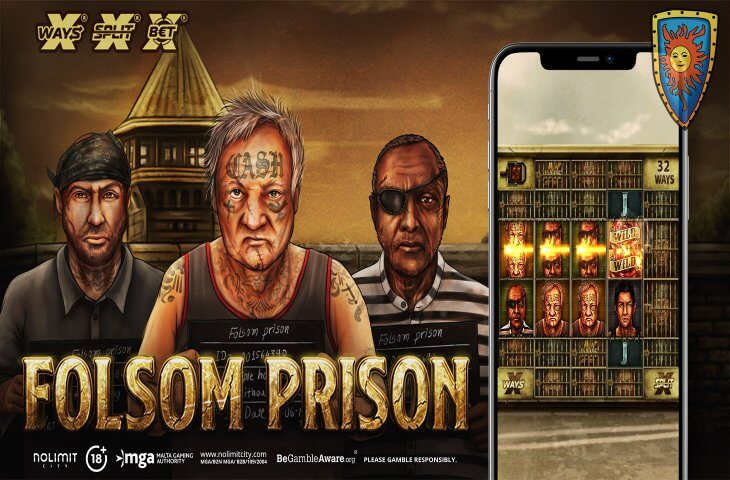 Earlier on today on our sister site Casino Gazette it was announced that the casino game studio Nolimit City's portfolio of game content was now available with game platform provider SkillOnNet, well in addition to this they have also released their latest game to the public at large, Folsom Prison.
Nolimit City has been through the wringer after dealing with the almighty Karen in their latest release 'Karen Maneater'. Now, they're back with yet another relentless gang. 2022 has been a year of throwbacks and nostalgia for the game developer – Nolimit City is set to visit another prison even more ruthless and infamous than the fan-favourite slot 'San Quentin' : Folsom Prison.
If you've ever watched a horror movie in your life, then you already have a good idea of what life at Folsom Prison is like. The only way to stay alive in that joint is to grow a pair of eyes at the back of your head and forget that sleep ever existed.
Folsom Prison features a deeply atmospheric art style reminiscent of the gruelling life sentences carried out over the decades. The slot has a fantastic soundtrack that is guaranteed to enthral players and keep heart rates pumping.
'The Chair' is the brutal end game – and doing time in the filthy, cockroach-infested Folsom Prison is just a shortcut to get there – It's no wonder why inmates describe Folsom Prison as "the end of the world".
Folsom Prison has a reel setup of 4-6-6-6-4 rows across 5 reels, with several locked positions which can be opened if on good behavior. The place is infested with Cockroaches that crawl on just about anything, with their nest spawning in the open positions on the 3 middle reels.
The good thing about these god-awful creatures is that any locked cell they go to opens up. The Toast Bet guarantees the player a Scatter symbol at the cost of an extra 20%. You can find Wild symbols, Scatter symbols, xSplit® as well as xWays® to try and make your sentence bearable, don't bet on it though! A total stimulated max pay-out of 75 000x will be given to you when you Meet Your Maker – There's a silver lining in everything, I guess!
Per Lindheimer, Product Owner at Nolimit City, said: "A Prison that's become immortal by one of the best albums of all time, was a big inspiration for this title."
"A San Quentin- light if you prefer, but it's so much more than just a prequel. Don't let the old school style make you too comfy, this is a violent place – and a volatile slot…"