Flutter Exceed Expectations to Start of 2021
By Simon Wright, Last updated Oct 31, 2021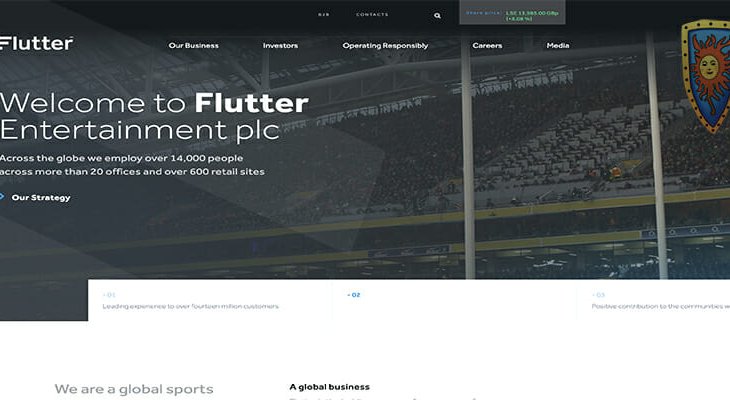 Flutter Entertainment plc who number Paddy Power and Betfair among several iGaming brands which they own and operate, have this morning posted strong interim results for the first half of 2021.
With gross gaming revenue nearly double of that of the same period last year and the business expecting to see profits in regulated market in 2023, Chief Executive Officer Peter Jackson was bullish in his appraisal on how well 2021 has gone so far for the company.
Commenting on the results released which saw profit before tax increase 221% to £77m for the first half of the year, Jackson said: "The first half of 2021 exceeded our expectations as we made substantial progress against our operational and strategic objectives while maintaining excellent momentum in growing our player base."
"Our global sports businesses benefitted from further enhancements to our products and the return to more normalised sporting calendars while we sustained our strong performance in gaming despite the challenging comparatives set last year."
"In the US, we remain the number 1 online sports betting operator by some distance thanks to the quality of our products and the extensive reach of the FanDuel brand. The customer economics we are seeing in the US bode very well for the future, with early FanDuel customers generating positive payback within the first 12 months of acquisition."
"We remain absolutely focused on extending our sports product advantages and replicating our market share success in further states as they regulate. In gaming we see an opportunity to grow our market share and look forward to further enhancing our product offering in the coming months."
"In the UK and Ireland, integration is progressing well with our 3 brands benefiting from shared learnings across product and operations. In Australia, Sportsbet delivered a phenomenal H1 performance with high customer retention rates during a period of reduced Covid disruption, suggesting that the business has experienced a permanent step change in scale."
"In International, which faced particularly challenging revenue comparatives following the growth in poker last year, revenue declines were less pronounced than anticipated as we continue to reposition and invest in the business for long-term sustainable growth."
"Taking a lead on safer gambling remains a key priority for the Group as we continue investment across our brands and step up our activity to promote safer gambling awareness and tools. In markets where our campaigns are most advanced we are already seeing a positive impact on customer engagement and usage of safer gambling tools."
"The second half of the year has started well and we look forward to making further progress in the coming months."
The share price for Flutter at the time of writing has gone up over 8% on the close of trading price yesterday evening. For more information on the brands operated by Flutter Entertainment check our reviews of Paddy Power Casino and Betfair Casino.