Elevation Live Casino Studio launched by Playtech and GVC
By Simon Wright, Last updated Apr 28, 2023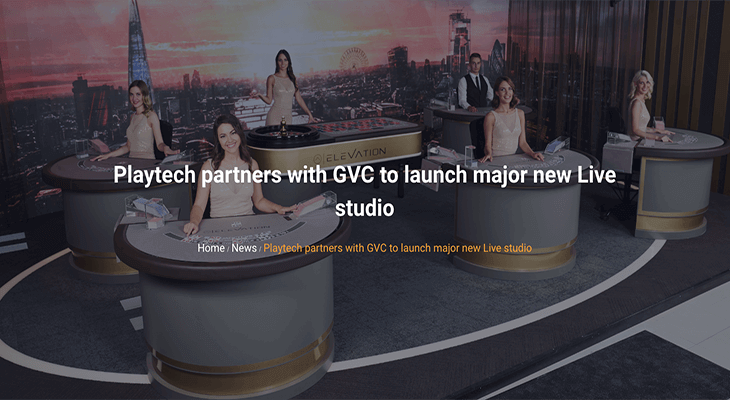 Playtech and GVC Holdings have joined forces to create a new live casino studio called Elevation. The brand new dedicated live casino studio will take shape over the next couple of months, with both Playtech and GVC hopeful of its future success.
Initially featuring five blackjack tables and a live roulette wheel studio, Elevation has been designed to be a true visual spectacle for players, bringing the Live Casino experience to life across GVC's many major brands. Brands which include the likes of BWin and Ladbrokes Coral.
Speaking about the launch of Elevation, GVC's Chief Operating Officer, Shay Segev, commented: "Live Casino is one of the major growth areas in the online gambling market, with players looking for a more immersive, entertainment-driven experience. Significant investment has gone into delivering the first stage of the Elevation studio and we're delighted with the results."
"Playtech's track record and experience in delivering innovative Live Casino technology and content is unsurpassed. We're looking forward to continuing our successful partnership and delivering a world-class player experience."
The past year has seen an increase in activity for the team behind Playtech's Live Casino products, whereby new games and products have been developed as the company have also expanded into new territories.
Chief Operating Officer of Playtech, speaking about Elevation, said: "As the parent company behind some of the most iconic brands in online gambling, GVC has been a key partner for us for many years, and we're delighted to be extending that partnership with the development of Elevation."
"We've significantly invested in our Live Casino technology and facilities in recent years, in addition to continually diversifying our content. So in a year when we've done more than ever to enhance our product, it seems only fitting to be working with an industry leader to deliver an ever-more innovative live experience."