Casinomeister's Three Tales of Terror – Halloween 2019
By Casinomeister Oct 31, 2019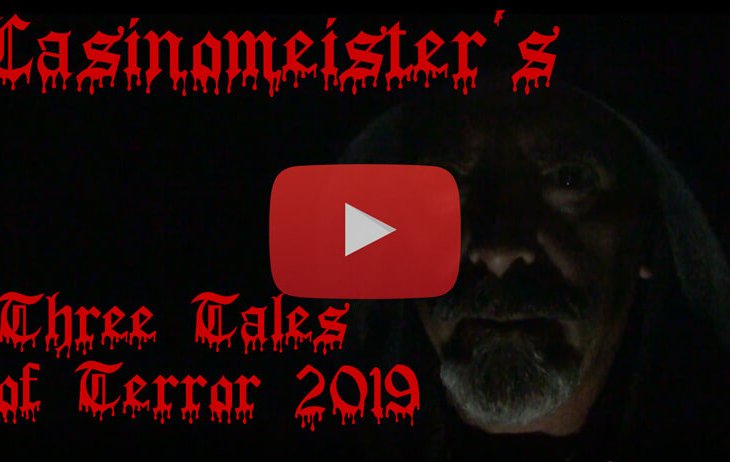 Hey hey hey – it's a terrifying day in Casinomeisterland – Now it's the time when the space between the living and the dead is very small. Phantom beings, spirits, ghosts, hauntings – they are among us – and certainly….with you. Yes, the darkness of winter is upon us, and this is the setting for Casinomeister's three tales of terror.
Our first tale – a tale that may drive you into insanity. It is not for the faint of heart….
Blood sucking human leeches
Yes, blood sucking human leaches are among us – they dwell in the underbelly of the online gaming industry. The human leaches are the affiliate webmasters who target problem gamblers by setting up websites, or singular pages that tout the effectiveness of Gamstop, which is a tool for problem gamblers to stop gambling. Yet they list the casinos that do not use Gamstop, and give advice on how to play at these casinos stating that you may find the games that you like without being bothered with being blocked from gamstop. These casinos are notorious. They are targeting problem gamblers, and are using the blood sucking human leech affiliates to snare these poor souls.
And there is nothing that you can do about this.
Be afraid. Be very afraid.
Our second tale: Streamers of Doom
What could be more frightening than finding out what you thought was real, was unreal. It was all a lie.
Lying liars who lie to us
Here we have a tale of charlatans, folks who call themselves "streamers", online casino affiliates who make it seem….like you could make money off of playing slots. Or worse, to make a living playing slots.
It was reported at Casinomeister, at Casino Gazette, and at thePogg, that there were a number ethically challenged folks – these streamers who play with huge bets and winning massive payouts all for public show. The thing is, this activity entices players, it makes players think that "yes, I could do this too – I could win big with massive bets". But lo and behold, many of these streamers are using fake money, or are being funded somehow by the casino in order to make these huge bets with massive wins. A fool and her – or his – money are soon parted. Do not be mesmerized by the trickery and treachery of these streamers. The over the top cringe worthy performances of buffoonery. It's fake, fake, fake, and only there to pull you in to a pit of doom.
Our third tale – a tale that will blow your mind and you will question yourself…is this really happening?
This tale is called: "The thing that won't go away."
Last year I gave warning, about the Devil's brood from Curaçao.
In fact, I have been giving warnings for years to those of you who take online gambling seriously. Warnings of the evil lurking in the Caribbean – on an island called Curacao. It is the license holder 1668/JAZ that allows its casinos to offer fake games, pirated software, to target problem gamblers, to eat babies – well, maybe not the whole baby. But they are evil, evil…
And they won't go away – they will always be with us – this devil's brood.
And you…are alone…no one can help you if you dare to venture to one of these vile and loathsome casinos. No one.
Yes, you may be alone, but you can use the tools that I provide you at Casinomeister…these are the tools of reasoning and smart decision making – the tool of collective thoughts and experiences with our gambling community in our forum – seek and you will find at Casinomeister and beware, beware…..
Still not enough Scared? please visit: