Casinomeister Forum Highlights
By Dave Sawyer, Last updated Apr 17, 2023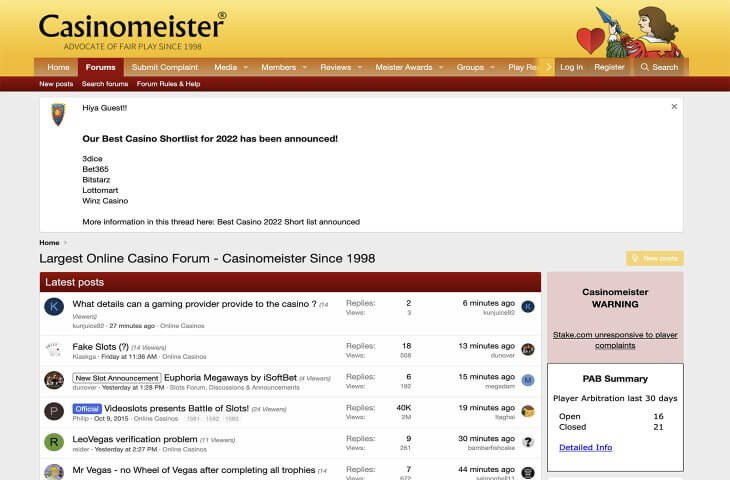 This is a new featured article here on Casinomeister, whereby we take a look back at the past week on the Casinomeister Forum and cover the issues which matter to you, the player. The intention is to publish this at the start of each week on a Monday and showcase which threads have garnered the most interest and debate on the forum.
Mansion to depart the UK
Back on the 7th January the All British Casino rep L&L Jan reported that the Mansion Casino group were to depart the regulated UK marketplace, with an email being sent out to affiliates promoting the casinos in the group stating: "We write to let you know that Mansion Group has made the decision to leave the UK Market."
"Mansion has enjoyed serving UK customers for almost 20 years, but we are all aware of the increasingly challenging regulatory conditions that have led to much narrower paths to profitability and ultimately, the decision that Mansion has taken."
New player registrations from the UK would cease on the 12th January, with subsequently deposits and bets from Mansion's UK player base also being stopped on the same day.
Mansion are yet another operator that have decided that the UK is not worthwhile operating in. Many UK licensed operators have over the past several years been subjected to eye watering penalty packages.
In the thread Mansion Group to leave UK Market forum member brianmon said of Mansion's decision: "They probably lost a big chunk of their UK players by sending an email, back in October, telling players that they needed to upload SOW documents."
While shadow123 opined: "Wonder if the regulators will ever click on to the fact that they are making the UK unviable for so many casinos or is that part of a cunning plan.
No one in their right mind would open a new casino here now."
Certainly Mansion will unlikely be the last licensed UK operator to exit stage left and depart the UK…
Fake Slots ?
The scourge of players and reports of yet another online casino offering games whereby the games are not all they seem, with forum member Kiaskga starting the thread Fake Slots ( ?) and their happening upon a new Curacao licensed casino with suspect games. With Kiaskga stating: "Maybe im completely wrong, thats why i want to ask the question here."
The proliferation of supposedly 'legit' online casinos starting up offering pirated games has been on the rise over the past few years and it is a further reason as to why players need to perform their own due diligence, before deciding to sign up and play at an online casino.
Use the resources available to you. Search the forum and also the casino reviews here on Casinomeister and also use google. If in doubt, don't sign up and don't deposit.
Contact at the MGA
A request for information on how to contact the Malta Gaming Authority was made by Choco on Thursday just gone in the thread How to contact MGA, with Choco expanding on the reasoning as to why he needed to touch base with the regulator, saying: "I already have active complain in MGA and in some ADR and Thats The problem… No body answers? And i need real legal advice in this case."
Avernite responded: "There used to be a complaints process through the MGA. I found them about as helpful and pleasant as using a cactus as toilet paper."
Perhaps let us know your own experience with any dealings you may have had in the past with the MGA……..
K8 Crypto Casinos accepting UK Players without a licence
In a topic which is likely to become more prevalent over the course of 2023, forum member AndrewPearson posted the transcript of his live chat with the Curacao licensed crypto casino K8, whereby the casino representative stated that they accept players from the UK. This despite the fact the casino does not indeed hold a licence from the UKGC.
With more and more licensed operators giving up their UKGC licence and making the decision the UK marketplace is not worthwhile to operate in, added to the fact players are having to complete more and more intrusive SoW requests, no doubt there will be many more unlicensed operators taking UK players. A fact that no doubt is not lost on disaffected UK players.
In the forum thread K8 Crypto Casinos accepting UK players without a licence, much debate ensued, with Casinomeister himself stating: "I predict that in the next 12 – 18 months, UK players will only have the High Street corporate sites to choose from. And at least 60 – 70 % of UK players will be participating in casinos that are not licensed by the UKGC."
With Bryan also adding in a later post: "It's a real shame – but this is what these SOW requests and massive fines are doing to the UK market. So are these casinos dodgy? Me thinks you might want to step back and take a look what's happening here."
However, L&L Jan the rep for L & L Casinos that operate brands such as the Casinomeister accredited All British Casino had an opposing viewpoint, with Jan saying in response to a post by aceking123: "For us the UK is working great and now with sportsbook included, I see a lot of positive signs. Also, I see a huge increase in completed SOW processes. I guess players are getting used to the requests and started to comply."
"E.g. when we added sports and a few highrollers joined us, all of these players have completed SOW. Still the majority of players, will never (or very late) be subject to any form of enhanced due diligence."
Forum member interlog also chimed in with: "Perhaps the UKGC should change their slogo from "when the fun stops, stop playing at our online licensed casinos". It is no fun not having quick spins, not having autoplay, possibily restrict my play to £2 a spin, having to send in private financial documents to demonstrate that I have the funds to play etc."
"No wonder that some players do switch to non UK licensed casinos. And I am not talking about players with gambling problems that have no option but to play at such casinos, but casual players that can afford to gamble but are totally pissed off with some of the draconian measures taking by the interfering UKGC."
Sentiments which no doubt many a UK player can concur with….