Casino Gazette returns after 16 year Absence
By Simon Wright, Last updated Jun 30, 2023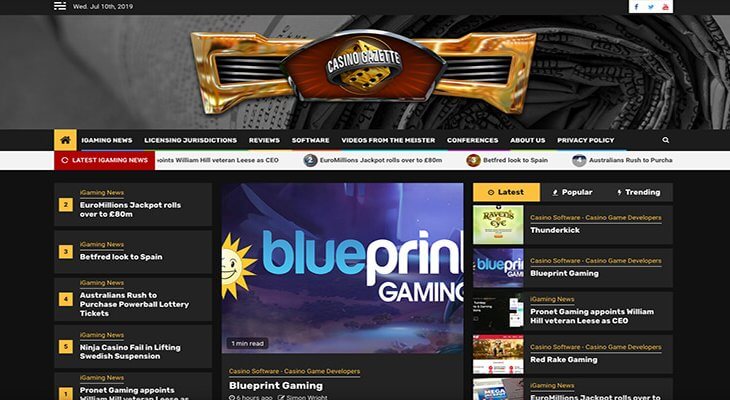 The gambling news and iGaming podcast site Casino Gazette which started out back in 2000 and which ran for three years, before closing its virtual doors in 2003, has been relaunched after a 16 year absence.
Casino Gazette which at the the time of its previous incarnation was a leading light among gambling portals, being the first such site to feature podcasts and radio shows, before the advent of webcasts and the existence of YouTube.
The podcasts delivered by Casino Gazette were the heart of the online player community and featured Brian Cullingworth from InfoPowa News. Bryan Bailey from Casinomeister produced player and affiliate news, while Mike Craig and Steve Adkins from the Online Player Association and Gamemaster discussed game strategies for online and offline poker.
Having closed its doors in 2003, Casino Gazette was purchased by Bryan Bailey of Casinomeister. Fast forward 16 years and the site has now been relaunched – finally.
The mission of Casino Gazette remains virtually the same: publishing news, videos, podcasts and reviews that engage players, affiliate webmasters, game developers, regulators and operators. Casino Gazette aims to be a one-stop news source for the iGaming community.
Bryan Bailey, director of Casino Gazette, stated, "I know it's been sixteen years, and yeah – I've been kind of busy, but we have finally gotten this old "labor of love" off the ground. I am looking forward to hosting an array of podcasts and videos on Casino Gazette as the site develops. Casino Gazette was a pioneer online gaming website, it is nice to see it up and running again."
About Casino Gazette: Casino Gazette was established in 2000 and was the original website providing its visitors podcasts and news concerning the amazing world of online casinos. Presently, Casino Gazette aims to be a one-stop news source for players, affiliate webmasters, software providers, regulators and operators of online casinos.