Bgo Online Casino Punter Hits A Major Jackpot
By Casinomeister, Last updated Jun 9, 2017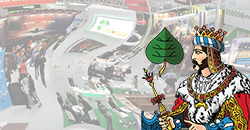 GBP 6,235,372.42 from a GBP 1.25 stake is pretty good going
The BGO online casino has issued a statement confirming that one of its players, identified only as Wellzyc has just hit a GBP 6,235,372.42 jackpot playing NetEnt's Mega Fortune progressive slot… and he did it on a GBP 1.25 wager!
The win is the biggest yet paid out by the operator, who revealed that the lucky punter plans to take his family to Disneyland on a holiday, but will invest most of the windfall in order to secure the family's financial future.
Whilst not disclosing the winner's location, BGO does note that his big win follows a GBP 3.6 million hit on the same game last year by a player from the same town…that was on a GBP 10 bet.
Online Casino News Courtesy of Infopowa