Betsson Group Post Solid Results for 2020
By Dave Sawyer, Last updated Jun 30, 2023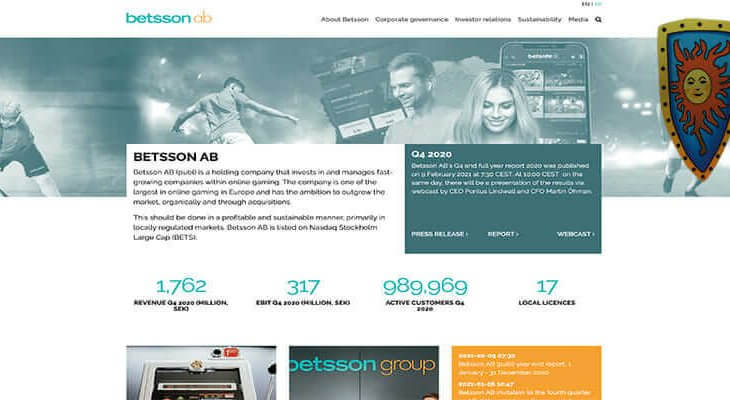 The Betsson Group, recent recipients of the Casinomeister 2020 Best Casino Group Award bestowed on them last Tuesday, have this morning posted their year end results for 2020, showing strong continued growth in the final quarter of 2020.
Growth in revenue was reported to be up some 24% on the previous year, compared with a Q4 increase of 37%, boosting Betsson Group's revenue for 2020 to SEK 6,389.6 million. Accordingly the Board of Directors have approved a dividend of SEK 503 million to be awarded to shareholders.
Pontus Lindwell the President and Chief Executive Officer of Betsson Group commenting on their results for the year, stated in his report to investors in the group: "Betsson ended 2020 with yet another strong quarter. Under the extraordinary circumstances that still prevail, online gaming continue to demonstrate its resilience to market fluctuations and Betsson demonstrates good profitability."
"During the fourth quarter, revenues increased by 37 percent compared to the previous year, with growth in all regions, and the operating profit increased by 59 percent. The increase is driven by both casino and sportsbook with a sportsbook margin that was slightly higher compared with the third quarter this year. We are pleased by the continued strong development in the Nordics, especially in Denmark and Sweden, at large driven by the "pay and play" brand Jalla Casino."
"There are several reasons for Betsson's success. The transition to digital entertainment has been further accelerated during the pandemic, which has benefited us, but in the long run Betsson's underlying strengths are crucial in creating growth and shareholder value. Our long experience and the strong financial position mean that we can continue to implement our strategy with a focus on growth despite current challenges."
"During the first nine months of 2020 Betsson made several acquisitions, which together with licenses obtained in other countries, entailed expansion with new brands to new markets while we continued to develop products and functions in existing markets. During the fourth quarter, Betsson continued on this offensive path. We obtained a license in Argentina and launched the Betsafe brand in Kenya."
"The pandemic still holds us all in a tight grip and Betsson's focus is, as always, on safety and health, for our employees and for society in general. We still face challenges, but we leave 2020 behind and continue with determination to benefit from our strengths to create a strong global and diversified product portfolio of strong brands and local expertise."
"The strong financial position enables investments in technology and existing product portfolio. And we are confident in our ambition with a scalable and flexible proprietary technology as well as highly dedicated and talented teams."
2020 has proven to be a strong year for Betsson Group, as well as posting strong results and picking up the Best Casino Group Award, they also acquired some solid brands from the Gaming Innovation Group, with the purchase of their casino brands to include the likes of Rizk and Guts.
Established way back in 1963, the group have grown to the extent that they now operate twenty separate brands and are licensed in no less than 17 regulatory jurisdictions. Certainly 2021 has already started impressively for the group and do not be surprised that the results for this coming year eclipse those which the group have just posted for 2020.