Betradar Gets Into E-sports
By Casinomeister Nov 18, 2016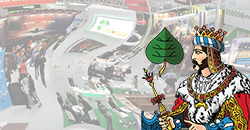 Claims to be first industry supplier to offer live-odds across multiple eSports online and live competitions
Sports betting data provider Betradar has partnered with eSports data specialist Dojo Madness in a deal that will see it supplying live-odds across multiple eSports online and live competitions, enhancing Dojo's betting products.
The service will help Dojo monitor thousands of unique data points in online and live eSports events, enhancing its current systems which analyse over 450,000 rounds and 18 million individual data points.
The addition of Betradar data will generate real-time probabilities for both pre-match and live eSports events, and a comprehensive in-play service.
Betradar head of eSports James Watson said in a statement that in many ways eSports, with its massive data volumes and games complexity is a more challenging business proposition than traditional sports betting.
"With the closing of skins betting sites the timing now seems right to bring our live solutions to market to enable traditional bookmakers to meet the demands of the eSports community," Watson said.
"We have created a new and unique framework that will greatly benefit operators. From today, they will be able to tap into the demand for comprehensive live coverage with the ideal range of Betradar services to support them alongside the best content and odds suggestions."
He said that the partnership with Dojo would create coverage of new, high quality events for Tier 1 eSports games, including top titles such as CS:GO, Dota 2, League of Legends, and Overwatch, all proven popular in an industry that analysts have predicted will be worth almost $30 billion in global annual turnover within the next five years. More immediate and current estimates are that $590 million will be wagered this year on eSports events by the end of 2016.
Online Casino News Courtesy of Infopowa