BET iGaming Conference London 2020
By Casinomeister, Last updated Nov 7, 2022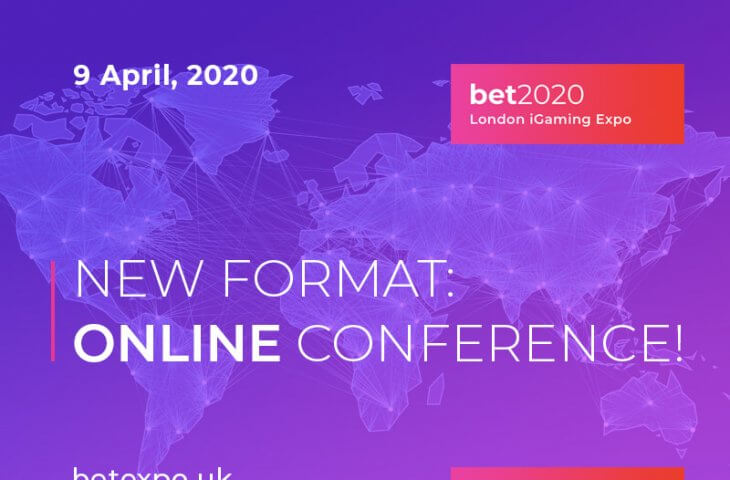 In light of the Coronavirus pandemic, the expo BET2020 which was supposed to be held on 7-9 April in London, is postponed until the world's situations stabilize. Our top priority
now is the safety and health of our speakers, sponsors, exhibitors, partners and guests.
Never give up. And our team isn't ready to give up!
Fortunately, we live in a fast-paced digital technology world and we have all rights to use options digitalisation provides us with. Therefore, the BET2020 team have decided to host
the first event in an online format.
What does it mean:
1. New conference format – a concentrate of the most useful and important industry topics compressed to the one day!
2. Top experts ready for personal dialogue with everyone while participating at an online BET2020 conference. Enjoy real-time Q&A, live chat with speakers, share your opinion and exchange contacts while the conference is streaming. Now you shouldn't concentrate on how to draw attention in order to start a dialogue – now your words will be seen by everyone in the online broadcast.
3. Visitors will have access to our downloadable resources section to keep newly obtained knowledge not only in the head but offline.
4. It's a great chance to increase brand awareness and engagement while sponsoring the BET2020 online. Sponsorship opportunities are available on-demand.
5. Each participant of the BET2020 online will automatically receive a special offer to the postponed offline (physical) event.
Updated agenda and timing can be found here.
---
BET 2020 London is an annual unforgettable gambling show taking place on April 7-9, 2020. The occasion, which includes 2 parties and poker tournament with renowned starts, will be host near
the London Bridge at an iconic Old Billingsgate venue.
Undoubtedly, you are already aware of the gambling industry and its longstanding "history of existing". Nevertheless, the iGaming industry still remains such a catching and ongoing topic which
is only developing and expanding, attracted more and more allies as well as cooperating with other innovative industries.
Nowadays field is seething with various worthy industry-related events, but organizers of the BET2020 want to breathe a new life and top up gambling with a new concept. BET2020 is about
the extension of other conferences and exhibitions, the newest informal pleasant setting where each participant will feel right at home.
BET2020 is the house of your allies. You are willing to expand the business and open mind to the latest insights, as well as to find new partners, or you can just have fun at the parties, you can do
everything you want to! Because BET London iGaming Expo 2020 proposes you the best offers to join gambling hangout.
For a start, let's see unique offers prepared for affiliates, operators and webmasters:
1. Organizers pleased to provide you with Free tickets, including pass to preparty, poker tournament and afterparty. Note: Networking and VIP zone will be open for two days of the event!
2. Possibility to present your company to the most relevant audience thought BET2020 marketing channels: logo placement with a clickable link and you can be even included in partners' promotion!
3. Seize an opportunity to increase brand awareness through participation act expo. Flexible price will be until February 14.
4. Learn all about referral cooperation system special for you. We appreciate your time and want to take it in the most beneficial for both parties way!
Organizers
But that's not all, because only together we will develop the industry, so we are looking forward to your fresh ideas and suggestions. Let's start our acquaintance today! To be great friends, to create a great business and generate creative ideas! Cause one of the significant life happenings is to find "right" contacts.
The conference agenda covers all the segments and verticals of the industry. Essentially the event has two global aims: unveil the industry pitfalls and understand the future of a rapidly-growing market. We will identify and put together the segments of allied technologies (Blockchain, AI, VR) laying the foundations of a new generation of online gambling. All of these and more will be covered in four blocks:
Real cases. Marketing power

 

Pitfalls of law. Evolution of business solutions (legalization, payments, GEO challenges)

Future of gambling. Innovative profitable technologies

The latest insights from Software Development World. Unveil customer experience
Don't miss the chance to listen to star speaker John Lefebvre. A Neteller founder will speak after a long time being out of the public eye.

Source:https://betexpo.uk