60 Second Heist™ by 4ThePlayer
By Simon Wright Feb 25, 2022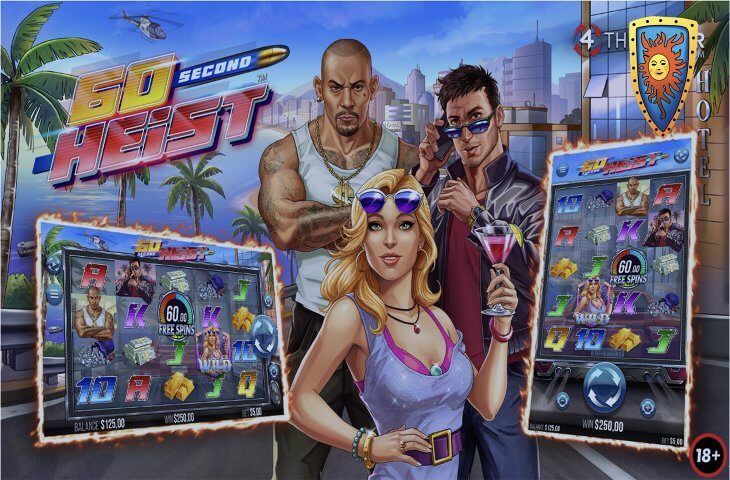 The casino game studio 4ThePlayer who were founded back in 2018 by the online gambling veterans Andrew Porter and Chris Ash formerly of Ash Gaming, have announced the release of their latest slot game Second Heist, which is being made available to operators via Yggdrasil. At the time of writing, 27 accredited online casinos listed here on Casinomeister feature directly games from 4ThePlayer, with casino games from Yggdrasil also appearing on over 90 accredited casinos.
60 Second Heist is titled as a ground-breaking 5-reel, 1,204-way slot, which  boasts a revolutionary 'Win Time Free Spins' bonus that sees players receive 60 thrilling seconds of free spins. This race against the clock can be extended by landing Extra Time symbols anywhere on the reels.
In addition to more drive time, landing Boost scatter symbols will force the reels to spin faster earning speed freaks even more cash as the clock counts down. If that wasn't enough there is an ever-increasing multiplier!
During base gameplay, a Turbo Lock Respin Feature may trigger at any time. This sees winning symbols lock in place. All other reel positions will respin and any new winning symbols will lock as well. This continues for five seconds, after which the final win will be awarded.
Activate Bonus Bet and fine-tune your chance of triggering Win Time Free Spins, using a simple slider – play the game how you want to play!
Part of the YG Masters portfolio, 60 Second Heist™ is powered by GATI, Yggdrasil's state-of-the-art technology enabling partners to employ the preconfigured, regulation-ready, standardised development toolkit to produce consistently cutting-edge content followed by rapid distribution.
Stuart McCarthy, Head of Product & Programs at Yggdrasil, said: "60 Second Heist™ offers players something completely different to anything else on the market right now, and for that reason alone we anticipate that this slot is going to be incredibly well received."
"There's been so much innovation around game mechanics and bonus features over the last few years, but we've never really seen anyone tackle free spins in such a way until now."
Chris Ash, Founder and Business Development Director at 4ThePlayer, said: "We're absolutely thrilled to introduce players to 60 Second Heist™ as it's without a doubt our most exciting high-octane slot to-date."
"This tile offers an unrivalled experience, and we truly believe that we've created something special with the help of Yggdrasil and their state-of-the-art GATI technology."
In November 2019 the team here at Casinomeister sat down with 4ThePlayer's Commercial and Marketing Director Henry Mclean, just prior to their launch of 9K Yeti, which in itself has proven to be somewhat of a hit with players.
It was clear then that 4ThePlayer's vision was to create and produce innovative and fun games for players, with 4ThePlayer engaging with the player community to ascertain exactly what players want in a slot game. Something that they continue to do, especially here at Casinomeister where they have an active presence on our forum.
At the time when we interviewed McLean, he acknowledged that 4ThePlayer had entered a crowded marketplace, yet the vision of the game studio, along with over 50 years combined experience in the iGaming industry, put 4ThePlayer in a unique position to provide players with solid compelling games.