IGAMING GUIDELINES AND TIPS
5 Of The Best TV Show Slots Ever Released
By Alex Smith, Last updated Feb 1, 2023
Almost all of us watch TV. Whether it's a quick episode of our favourite show first thing in the morning before work, or binging an entire series over the weekend, TV is something that's found in most of our lives – and it's no surprise to see slot developers capitalizing on this trend. Today – like with music-themed slots – there exist a huge number of video slots based around TV shows. In this post, we're going to be taking a look at five of the most well-known and popular slot games themed around TV shows. Got favourites of your own? Feel free to comment them in the forum. Who knows, maybe developers will be watching!
#5: South Park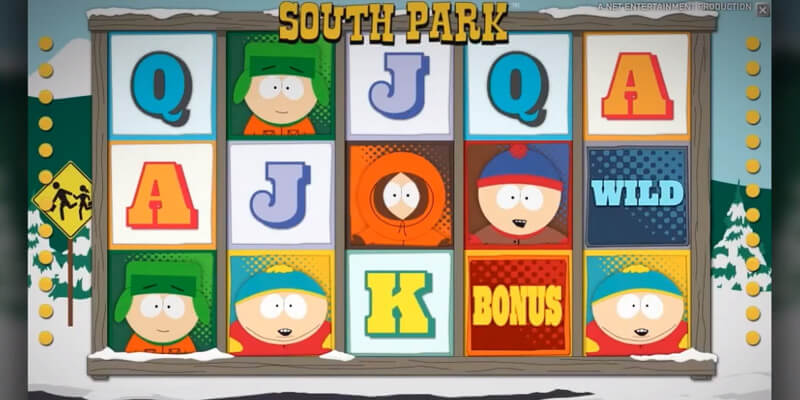 South Park  is one of the most successful TV shows in history. This US animated sitcom follows the lives of four boys – Stan Marsh, Kyle Broflovski, Eric Cartman and Kenny McCormick – as they get up to mischief. While controversial, the show has proved exceptionally popular, receiving a rating of 8.7/10 on IMDb. NetEnt were the developer behind South Park – and it also became one of the providers' most popular releases.
Unfortunately, for reasons which – we assume – must have been to do with licensing, NetEnt have recently pulled South Park from its gaming catalogue. Still, the game had to be mentioned here as it's a player favourite.
South Park – the video slot – is (was) a 5-reel, 3-row slot with 25 fixed paylines. Players could play the game from between 25p and £125 per spin. The game packed a ton of exciting bonus features into it, including randomly activated features which occured in the base-game. This included the Terrance and Phillip Mini feature (where between 3 and 5 wilds were added randomly to the screen), the Mr. Hankey feature where 3-5 wilds were added to reels 1, 3 and 5, and the Cartman feature where a giant 3X3 block of wilds was placed on the middle three reels.
The game's main bonus round was triggered by landing two regular bonus scatter symbols on reels 3 and 4, and a character-specific symbol on reel 5. You would then receive one of four bonuses including the Stan Bonus Spins, the Kyle Bonus Spins, the Kenny Bonus, and the Cartman Bonus.
South Park proved to be a phenomenal success for NetEnt – and they followed up on it by releasing another South Park-themed slot called South Park: Reel Chaos. Unfortunately, this was also discontinued. Whether they'll be made available in the future remains to be seen. (NetEnt, if you're listening; please bring back South Park!)
#4: Pink Panther
The Pink Panther is a British-American media franchise which follows INspector Jacques Clouseau – a French police detective. The character started his journey back in 1963 when the first Pink Panther film was released – and since then, it's become a popular show all across the world.
Playtech are the game developer who was awarded the rights to produce an online video slot based on the Pink Panther – and by all accounts, they've done a pretty good job. It's one of their oldest titles, and it's also one of the most successful – and it can be found at virtually all casinos offer Playtech games.
The Pink Panther slot is a 5-reel, 4-row video slot with a total of 40 paylines. Players can spin the reels from between 40p and £200 per spin. The game became popular thanks to its large payout potential (matching a 5-of-a-kind combination of the wild symbols alone pays a whopping 5,000-coins), and it's also packed with four exciting bonus features which we'll cover below.
The first, is the Pink Pow! bonus. This is activated randomly during the main base-game, and you'll see the Pink Panther blow between 2 and 6 wild symbols onto the reels.
The second bonus is the Crack the Pink Code Bonus, and this – again – is triggered randomly. 10 safes will appear on your screen, and the Pink Panther will open these one-by-one. Each safe can reveal free-spins, multiplier values or an expanding reel (which is placed on the 3rd reel.) Safes continue to be opened until a safe is opened which contains dynamite, at which point this mini-feature will end.
The third bonus is the Color Pink Bonus. Again, this is triggered randomly during the main base-game. A small man now joins the Pink Panther, and together, they paint numbers on a wall. The numbers they paint reflect a cash prize which you can either take, or, if you're feeling bold, refuse. If you refuse, more numbers are drawn. The fourth bonus is the Pink Trail Bonus, and again – this is triggered randomly. When it activates, Inspector Clouseau will follow four different sets of footprints, trying to find a stolen diamond. Each step forward awards you with a cash prize.
The Pink Panther slot also contains two different progressive jackpots – and these are also awarded randomly. The higher you stake the more chance you have of winning these jackpots.
#3: Top Cat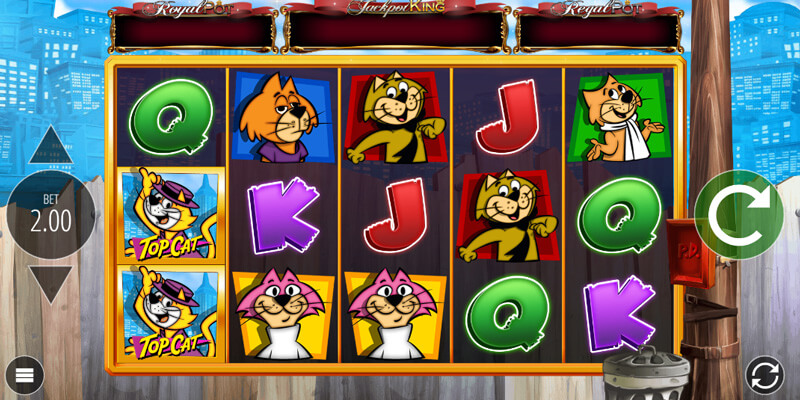 Top Cat is one of the most well-known animated TV shows in history – and it was also one of the first, appearing on screens back in 1961. Despite only running for 1 season for a total of 30 episodes, Top Cat has become extremely well-known around the world. The show features around a gang of Manhattan alley cats who live in Hoagy's Alley. These cats include Fancy-Fancy, Spook, Benny the Ball, Brain, Choo Choo, and of course, Top Cat himself.
Blueprint Gaming received the rights to make an online video slot themed around Top Cat – and to this day, it remains one of the developer's most successful releases. The game features a ton of features, including five randomly-triggered ones.
The first is the Fancy-Fancy Hot Dog Re-Spins. This is triggered by landing the giant hot dog wild fully in view on the fifth reel. You will then receive 5 re-spins, and the hot dog is wild on each spin. It moves across the reels on each spin (from right-to-left), finishing up on the first reel.
The other four randomly triggered bonuses are activated when you hear the phone ring. The first is known as Choo's Piano Wilds. This adds a random number of wild symbols to the reels. Up next is Benny's Colossal TV's feature; Benny will drop a random number of pianos onto the reels. Once he's finished, all of the TVs will transform into wild symbols.
Next up is Brain's Water Wilds. Brain will place fire hydrants below each of the five reels, and this will transform between one and all five reels into wild reels for the following spin. Finally, there's Spook's Mice is Nice. Mice will appear on the screen and shuffle the symbols around so that they form a guaranteed win.
The main bonuses are triggered by landing the scatter symbol on reels 1, 3 and 5. There are five possible bonuses to get here. First up is the Cash Picker Bonus. You simply get to pick trash can to receive cash prizes. Second, is the Maharajah Heist; here you enter a trail game with two stages. You win various cash prizes and multipliers.
Next you've got the Diner Free Spins. By collecting special wild symbols, you can progress to new, more exciting levels. Fourth is Dibble's Free Spins. You're awarded 10 free-spins, and during these spins any wilds you land stay on the screen for the remainder of the bonus. Finally there's the Construction Site Wilds. This is a four-stage game where you must try to move up in search of bigger prizes.
Blueprint have also added their Jackpot King progressive jackpot feature into Top Cat. Landing one of the special Jackpot King scatter symbols on each of the five reels will trigger the jackpot feature where you can win – literally – millions!
#2: Deal or No Deal: What's in Your Box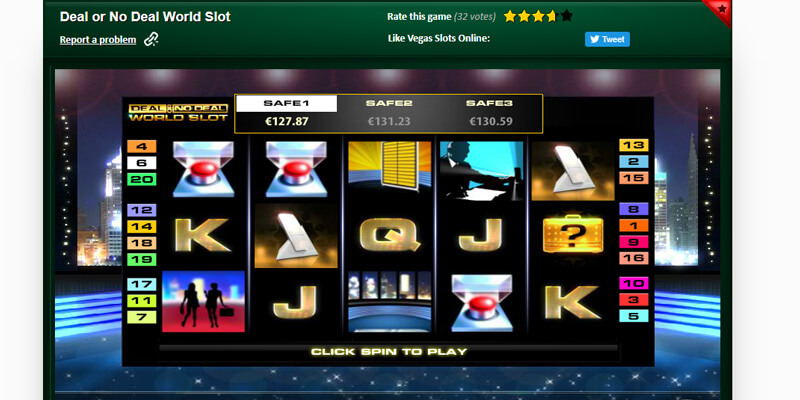 Deal or No Deal is one of the most successful TV shows – and franchises – in recent history. What started out as a UK-based series has emerged all over the world, and today, countries all over the world host their own versions of the show. The game is based around 22 identical red boxes, each containing a cash value between 1p and £250,000. Contestants must eliminate boxes, with the Banker offering cash amounts at preset intervals based on which boxes they've taken out so far.
Blueprint Gaming get a second mention here on this list as they're the developer behind our next TV show slot – Deal or No Deal: What's in Your Box. (Deal or No Deal games have been popular online – various providers have received the licensing rights to built games around this theme including Playtech.)
In Deal or No Deal: What's in Your Box, there's lots of exciting action unfolding – and it really feels as though you're experiencing the game show for yourself. Like many of Blueprint's games, Deal or No Deal: What's In Your Box is packed with bonuses and features, and we'll look at these below.
First, you've got the randomly-triggered features. These are all presented under the Banker's Bonus, which is played when the phone rings. If this triggers you can win random wilds, mystery symbols, re-spin streaks (where one symbol is locked in for unlimited re-spins), and bonus symbol adds, which gives you a better chance of landing the main bonus.
The main bonus itself is triggered by landing 3, 4, or 5 of the scatter symbols anywhere in view. Five features are then possible to win. The first is called the Go All The Way bonus. Here, you simply pick from boxes on screen to reveal cash prizes.
The second bonus is the Trail of Wealth feature. Here, you'll be rolling dice to move across a board game layout. You can win cash prizes, multipliers, or – in rare instances – entry to a higher bonus feature.
The third bonus is the Seal of Success free-spins. Here, you're awarded 10 free-spins. Each time you land three seals on the 5th reel you'll be awarded an additional five free-spins. One of the lower premium symbols will also be upgraded to the top-paying symbol. The fourth bonus is the Power Play free-spins. Again, 10 spins are awarded. If, during the spins, you manage to land the special box in view, you'll enter unlimited free-spins, during which the 23 box is added, awarding additional prizes. Finally, you have the Deal or No Deal feature. This lets you play the actual Deal or No Deal game, and here you can win up to 2,000X your total stake!
#1: Game of Thrones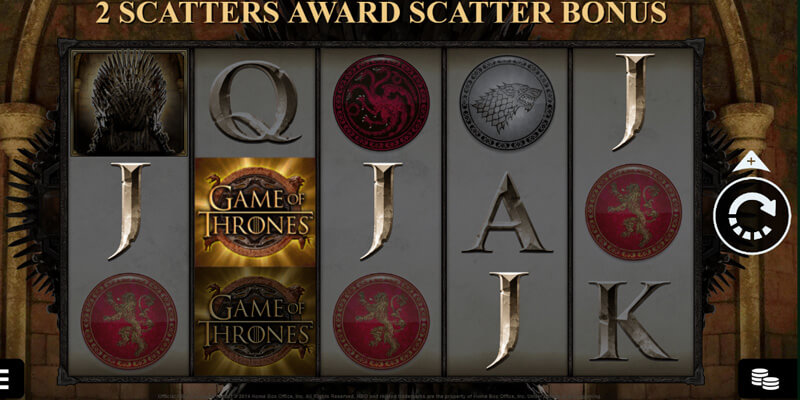 Games of Thrones is one of the most famous TV shows in history. This American fantasy drama was created by David Benioff and D.B. Weiss for HBO and it's attracted somewhat of a cult following over the world. Microgaming are the developer who received the rights to produce the Game of Thrones slot, and to this day it continues to be one of their most successful releases in history.
The game boasts an exciting bonus, which is triggered by landing 3, 4, or 5 of the scatter symbols anywhere in view. You then get to pick one of four different free-spins features, where you'll find the top-paying symbols stacked on all reels, as well as a multiplier up to 5X attached to any wins.
Wild symbols are also stacked during the base-game and in the feature, so there's plenty of chances to win big.
What's YOUR Favourite TV Show Slot?
There are tons of video slots out there based around TV shows. Almost all game developers try to produce them, as it attracts many players – and this competitive environment means providers are doing all they can to make the best TV show slots. Got favourites that aren't listed here? Let us know over in the Casinomeister forum – we'd love to hear what YOU think the best TV slots are!