4ThePlayer Wins the EGR Innovation in Slot Provision Award
By Simon Wright Jun 16, 2022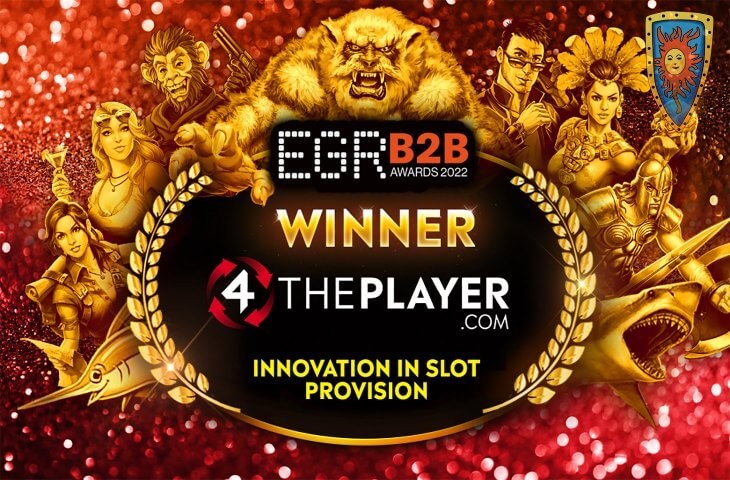 The London based casino game studio 4ThePlayer who were founded by Andrew Porter and Chris Ash, formerly of Ash Gaming, are celebrating this morning after having been recognised for producing and creating innovative slot games, having scooped up the award of 'Innovation in Slot Provision' at the iGaming industry's leading EGR Awards held in London last night.
4ThePlayer who are represented here on the Casinomeister Forum by Marketing Director Henry McLean, who incidentally we interviewed back in November 2019, an interview you can read here, have from the outset of their inception strived to produce innovative casino games that appeal to the players at the operators which carry their game content.
The ERG Innovation in Slot Provision award is judged on multiple criteria including Product Innovation, Product Development and Deliverability, Product Differentiation, User Experience, and Understanding of Customer Needs. In order to win, 4ThePlayer had to demonstrate not only the innovation in their products but the commercial success of their innovations.
4ThePlayers currently has 15 games live on a number of platforms, including the recently released top performer, 4 Fantastic Fish. Their player-centric and entertainment-focused innovations include:
Future Power™, a mechanic that automatically evolves the game, 7 Elements, based on the calendar, allowing players to unlock and collect game enhancements.
Win Time™: which delivers high-octane excitement in 60 Second Heist by awarding the player time instead of a fixed number of spins for their free spins bonuses.
Big Reel Portrait ® Mode, which revolutionises mobile portrait play by creating an immersive entertainment experience, using up to 70% of the mobile portrait screen compared to the standard 20% on most other games.
The awards are independently officiated by Deloitte, making the judging process and overall awards the one of the most stringent in the gaming industry.
Andrew Porter Chief Executive Officer of 4ThePlayer commenting on the news, said: "I am delighted to have won this award – especially an award with such strong competition from the biggest names in the gaming space! At 4ThePlayer we constantly innovate and every game has its own unique twist or evolution of a concept."
"This award is a testament to our team's hard work and constant drive to create the ultimate exciting and entertaining slots!"
"This is the third award 4ThePlayer has won in the last few weeks after winning 'Outperforming Game Studio of the Year (Small)' and taking bronze in the 'Slot Collaboration of The Year' award for 90k Yeti Gigablox at the Casino Beats Game Developer Awards 2022."
4ThePlayer continues to go from strength to strength as they begin their multi-stake US expansion while creating a new, exciting, and innovative roadmap of games for the remainder of 2022 and onward into 2023, including the eagerly awaited sequel to 3 Secret Cities: 4 Secret Pyramids!