3 Secret Cities
By Simon Wright May 21, 2021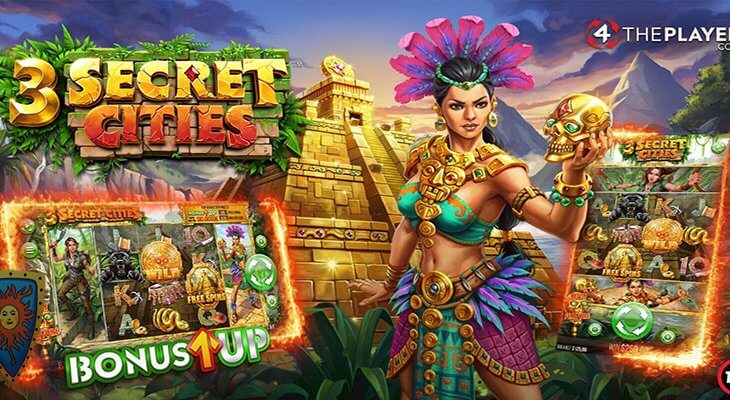 The up and coming 4ThePlayer who were established back in 2018 by iGaming industry veterans Andrew Porter and Chris Ash, who saw their first casino game go live in November of 2019, have today announced the release of their latest game 3 Secret Cities.
A press release issued this morning from the London based casino game studio professes that 3 Secret Cities which can be found exclusively at LeoVegas until 26th May when it goes network wide, takes players on a journey and adventure to discover the lost temple treasures!
3 Secret Cities features 4ThePlayer.com's new BONUS↑UP mechanic, which keeps the game exciting by improving the bonus (increasing Free Spins and Multiplier) the longer the play without hitting one. In addition, once the players have completed a bonus, we improve the chance to hit the next bonus quickly!
Climb each Temple in 3 mysterious locations to win extra Free Spins, Multipliers, and Super Stacked symbols. The game also features 4ThePlayer's exclusive, player favourite Big Reel Portrait Mode®, making portrait play an immersive entertainment experience.
Andrew Porter, Chief Executive Officer of 4ThePlayer commenting on the release of 3 Secret Cities said: "With recent slots pushing out bonus frequency to crazy numbers, we have solved 2 major player frustrations with our new BONUS↑UP mechanic."
"If a bonus takes a long time to hit, we make the wait worthwhile, and after a bonus, you can look forward to a better bonus chance and can chain together lots of bonuses in a smaller number of spins."
"This game takes the player on exciting journeys, and we think they will love how their bonus either hits quickly or improves as they play."
Johan Ekberg, Group Casino Games Manager of LeoVegas, said: "We are excited for our players to explore 3 Secret Cities: the new BONUS UP mechanic adds a new level of excitement and intrigue into the game."
"4ThePlayer have done a brilliant job creating something innovative and – more importantly – incredibly fun to play! LeoVegas is the King of Mobile Casino so we especially also appreciate Big Reel Portrait Mode, where our players can enjoy the game however they play!"

To discuss 3 Secret Cities, check out the announcement of its release made by 4ThePlayer's Henry McLean on the Casinomeister forum here.