With the discussion going on in another thread about slots channels being closed and deleted. I thought I'd bring this up..
I've just watched a YouTube video of a new Pragmatic slot - Sweet Bonanza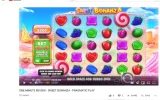 When the video had finished, This is what YouTube suggested I watch next..
So if these are the videos suggested by YouTube's algorithms.
Is it not possible the reverse could happen, with the slot review being suggested to the viewers watching these kid's videos???
Could YouTube's algorithms be part of the problem ???
P.S. I don't watch kid's videos. So the suggestions can't be based on my viewing history, lol