March 30th, 2019 I had enough with gambling. Already down the year about $20,000 I sent an email to 15 operators I used to Permanently close the account. The title of this email was
please self-exclude permanently for responsible gaming
.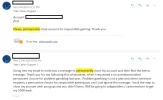 After investigating even further I find this sent a couple of months later:

So, by this point, not once, but twice have I asked for my account to be closed. Every other site on this list abided by this, and was responsible, even another L&L property Fun Casino. But, of course, Yako once again ignores this.
Which brings me to last week:
Get an email that my accounts been re-opened! Lose, $500 right away then realize, hey wait I permanently self-excluded there why would they do this. Go into my emails and find not one, but two distinct emails to close permanently for self-exclusion. Also find this on their website:
In the case that you feel you may have a problem with gambling or an addiction, Yako Casino recommends that you self-exclude. A self-exclusion results in a complete lock to your account for the duration of a minimum of 3 months and up to 5 years
. Once the self-exclusion period has passed, you will need to take action and opt back in by contacting our trained customers service agents over the telephone.
Self-exclusion must be applied in the event of problem gambling only!
Note: I never called in. They simply opened the account.
Today:
I have already spoken to L&L Jan, he told me if they made even the smallest mistake he'd refund. I see three HUGE mistakes. He told me they have done absolutely nothing wrong and will not refund.
Last edited: