A little mix of Dutch and Irish
Joined

Jun 3, 2013
Location
Anyone else booted by Quasargaming?
It seems this crowd is expelling more and more countries from their list.
A few days ago I was still able to play and deposit and all of a sudden today: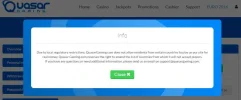 No e-mail, no notification, no nothing.
This was my number 1 casino for Novomatic slots.
Just being kicked out like some sort of a bum.
Playing there since 2012, depositing many many times and this is what you get as a thank you!
Seriously Quasargaming,this really really really makes my blood boil!!!