Winter Free Spins Contest @ Wild Jackpots Casino
Hi everyone!

Sit in front of the fireplace with a cup of eggnog and spin the blizzard away this December with Bullseye, Serenity, Happy Holidays and StarDust, Wild Jackpots casino's brand new Slots.

You even get an early X-mas present from Wild Jackpots, to try out one of our new slots. We're offering a prize pool of 2,000 Free Spins on the Happy Holidays slot to the first 100 winners of this CM-exclusive promotion.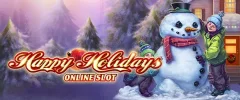 Over the course of a week I will be posting several riddles/challenges in this thread, so keep an eye on it to spot any new comments, as they may contain a new riddle.

Then send me a PM with your Wild Jackpots username + the correct answer to the question that is active at that moment, and you will receive

20 Free Spins on Happy Holidays

.

And that's not all! Post a screenshot of the win you make from the free spins, and you could get an

additional prize

. Three of you will receive the following extra treats:

• Biggest win: $35 Free Bonus
• 2nd biggest win: $25 Free Bonus
• Lowest win: $15 Free Bonus


I will notify the free spins winners by email, within 48 business hours after they send me the PM, so make sure your email address is updated on your Wild Jackpots account, or confirm it for me in the PM. ONLY ONE set of spins can be issued per person during this contest!

This contest is for Casinomeister members who have either an existing or a newly registered Wild Jackpots account. If you don't have a Wild Jackpots casino account yet,




Terms and Conditions:
-The Casinomeister free spins contest is active until
December 17th, at 12:00 GMT
.
-Screenshots can be posted until December 18th, at 12:00 GMT
-The winners of the 3 additional prizes will be determined only depending on the screenshots posted in the thread until Dec 18th, 12:00 GMT, and considering the amount won in each player's currency. For players with SEK/NOK currency, the win will be divided by 10.
-Only one set of spins can be issued per Wild Jackpots Casino account during this promotion.
-Only correct answers sent via Private Message will participate in the promo for the free spins.
-In the PM please include your Wild Jackpots Casino username.
-I will issue the free spins within 48 hours after you send me the PM, so don't worry if you don't hear from me straight away.
-Only for CM members with CM accounts created prior to submitting this promo.
-Promotions available only for countries from which
-Wild Jackpots
​