WebMeister & Slotaholic..
webmeister
PABnonaccred
CAG
MM

Joined

Aug 25, 2004
Location
I tried
Yeti
for the first time in the early hours of this-morning, and I don't know if it was beginners luck or what, but I had a great time on it!
The features seem to come quite easily, and in fact I had 2 in succession go all the way to the maximum 21 free-spins, only about 30 spins apart.
The first paid bet x119, the second x183.
With wilds everywhere (almost had a full screen of them a couple of times), wins are frequent - but 5 wilds or 5 top pay symbols only pay total bet x35 and there's only 11 win-lines, so you're never going to win massive on it.
But I was very happy to make £330 profit in only about 30 minutes of play!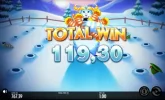 I posted the video of the second feature in this thread:
New Slot Announcement - Thunderkick Yeti & Blueprint's Diamond Mine
KK