aka LooHoo
webmeister
PABnonaccred
CAG
Joined

Jun 5, 2006
Location
lol seriously. Ok so here's the deal - I was reading an article on the News App on my computer - the one that ships with Win 10 and grabs news from different sources and tosses in a couple ads here and there. When you get to the end of the article it shows some other content you might be interested in, and this one (which I knew was an ad) caught my eye because the guy in the photo kinda looks like someone I know. I clicked it so I could see if there were more pics of the guy and then I was going to send it to him - for a laugh really.
So here's the ad: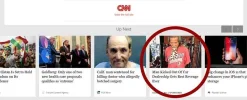 I've saved the link if anyone wants to see it, but it's got a bunch of base64 in it. Anyhow, the link goes to a website page with a pic at the top (which doesn't include the pic of the guy from the thumbnail) and I see it's just a full page ad. I was going to just leave, but decided to scroll down to see if there was a pic of the guy, and then I noticed there was a jackpot picture. So then I went back and read the whole thing and did screenshots. I included the comments too because they're fake. There is a comment form but I tried leaving a comment (Using a fake email of course because I'm no dummy!) and it gave an error. Although it's possible that it's capturing email addresses for spam too.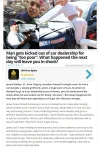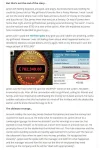 The rest of the site seems to be just a bunch of random stuff, and possibly they don't know this page is on their site. But it's also possible that the whole website is just a bunch of recycled content from other sources and its only purpose is to to serve ads like this.
Is this an actual approved marketing tactic? Obviously if the website was hacked to include this then the answer is no, but even the rest of it? At least they didn't say that the people won jackpots with the bonus.