Hello Casinomeisters!
We hope you are all well and good and suitably Festive! Here's some details on our 4rd Slot release Way of The Tiger
At a Glance:
40 Lines 5x4 Video Slot
Volatility 6/10
Bonus Frequency 4/10
Hit Frequency 6/10
Win Focus: 500x Bet
Game RTP: 94.49%, 95.5%, 96.48% - Market and Operator Depending
Max Win: +10000x Bet
A more exotic game than the others we've done. The Indian jungle will give you a few features if you're lucky.
Tiger Trails
is triggered randomly in the Base Game. When activated you'll see the jungle shift to a night time scene. Here we have special reels where Tiger Paw Scatters can land which have multipliers of bet prizes. For any Tiger Trails spins when they are no line wins, Scatter Multipliers that might come in on the next spins
have higher multipliers
. They can go up to
20x
. You get 3 Tiger Trails spins normally, but any Tiger Paw Scatters that land
give you a +1 to remaining Tiger Trails spins. All Tiger Paw Scatters lock in place
until you are out of Tiger Trails spins and then that add up and payout.


Where the bigger money is:
You can trigger Free Games in Tiger Trails (3 Scatters). You
take your current Tiger Paw Scatter Multiplier Level into Free Games
that can give you a head start to those
really big Scatter Pays!


Free Games:
3 Scatters to trigger in Base Game or in Tiger Trails. Volatility Choice
Jungle Boost.
This is a multiplier that multiplies the Paw Scatters can create some big wins in Way of the Tiger.
Low: 9 Spins No Jungle Boost
Medium: 7 Spins, Jungle Boost x2
High: 5 Spins, Jungle Boost x3
Tiger Paw Scatters can go up to x500. With Jungle Boost upto x3 that means Scatters up to x1500 per symbol!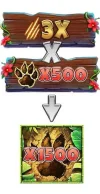 Tiger Paw Scatters randomly upgrade and pay on every free spin they land. Bonus Scatters land on centre reel adding +1 to Free Games.
For absolute transparency, we do offer multiple RTP versions of our Games which depends on Customers choice and their Markets - but the Game will state this on the first page of the splash screen, so please do check this out so you are aware.
Specifics (Stats based on 96.49% RTP version):
Two ways to trigger Free Games: 3 Bonus Scatters in Base Game or Tiger Trails Feature
Random trigger for Tiger Trails 1 in ~85 spin
Free Games 1 in~355 spins
RTP is at 97.06% for Bonus Buy at 73.4 x Bet
Lucksome Locks triggers when you get 2 Scatters. Lucksome Locks is 5x your total bet, but you can change your base total bet before you choose to play a Lucksome Locks Spin, but that will be the base bet you will enter the bonus with if you trigger. Lucksome Locks also runs at ~97%.
Lucksome Locks Success Rate: 1 in 14 Spins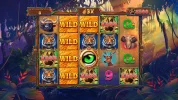 Feedback and questions are welcome. Good luck, enjoy and please play responsibly!
Burg & Team Lucksome
Last edited: