As mentioned in some other threads, I have and still am having a nasty experience with this group of casinos concerning a large win and subsequent withdrawal request resulting in account closure and confiscations.
Basic situation with the group of casinos sharing the same licence number:
During October, November and December 2017 I had opened accounts at FansBet, LuckyCasino, OneBet and MoboBet. Not to replace the accredited casinos I play at, just for some small side bets when main deposit limits are met elsewhere. I regulate my play there by using the cool off function, not because of a gambling addiction, just because it is a useful tool I like to use.
During this 3 month period, I had made 20+ deposits (between £10 and £30 each) over the different casinos within the group and all accounts were created, documents uploaded, verified and account approved prior to any deposits. No problems so far! On 18th December my LuckyCasino account cool off lapsed so they reopened it, I deposited, doubled my money and made a withdrawal request. On the same day I noted MoboCasino was new and thought I would give them a try, so account created, documents uploaded, account approved, deposit made.
Waheey! Big 2,400x win on Multifruit 81, so submit a withdrawal request for £1,100. Still pending 24 hours later, so query with online chat and they say my account is all fine and no problems. I then receive the dreaded e-mail - account closed and withdrawal confiscated. The same happens to the LuckyCasino account (just a couple of days after they reopened it) because I made a withdrawal request. My FansBet account is strangely enough still open and OneBet is in cool off for another 2 weeks.
The reason they gave was that I breached their rules, namely they treat cool offs as self exclusion and as such, all accounts should be closed. They refunded the couple of deposits which resulted in withdrawals.
Here lies the problem. I never self excluded! Per the UKGC LCCP rules, a self exclusion is for a minimum of 6 months and has weighty rules and regulations attached to it. I have since had clarification from the UKGC in that a cool off is a responsible gambling tool (much the same as deposit limits), whereas self exclusion is a social responsibility rule.
I have re-read the casinos T&C's and there are many incorrect terms which go against UKGC rules, but then a single line inserted saying 'If playing from the UK, the minimum term for self exclusion is 6 months', therefore this overrides previous non-applicable terms.
Therefore it is my conclusion that the casino is loosely attaching self exclusion status to my accounts in order to confiscate money and avoid paying me. However, I have built up a catalogue of issues which the casino have failed to respond to and also they have failed to respond to the complaint I posted on the AskGamblers site. I would have a PAB here, but would like to openly discuss this issue which goes against PAB rules. No disrespect to the guys here.
In my favour:
Accounts were verified, documents uploaded and all approved prior to playing at each casino
In November I contacted support (online chat session) saying that a sister account is flagged as self excluded (even though it was in cool off) and asking if it was still ok to play at this site. I was told my account was fine and that the other 'exclusion' was just a real money exclusion and wouldn't affect accounts on their other brands. The accounts remained open.
The group had accepted 20+ deposits over the 3 month period
The group had reopened accounts while another was in cool off (which is perfectly fine, but contradicts their rules if they are applying the incorrect rules to UK players)
I had queried again if my accounts were fine once the £1,100 withdrawal was submitted. Was again assured it was ok.
I had a successful withdrawal at OneBet while Luckycasino was in cool off. I presume this went through as the withdrawal amount was a bit less than accumulated deposits, so they took the cheaper option!
Throughout them closing accounts when withdrawals were submitted, the FansBet account remained open.
The same details were used at each casino - same user name, e-mail, address, DoB, telephone number, etc, so they cannot claim I changed details to circumvent rules to open account while 'excluded'
The UKGC responded to my e-mail and say 'We require operators to have tools and facilities in place surrounding responsible gambling and social responsibility. It is concerning to read that the operator may have confused the two tools, the cooling off period and self-exclusion'
Not in my favour:
They do have rules claiming a cool off is self exclusion in their group and as such, can be excluded from just 1 day up to 1 year. Needless to say this rule is incorrect for the UK market and not applicable, but it does exist.
In the last few days they have blacklisted all players from the UK at the MoboCasino site, but not the others using same UK licence number from what I can see.
Their support (via the Legal Counsel Department) are not answering my valid questions which I need answering, just keep saying I need to refer to rules 6.4.6 and 6.4.8 about self exclusion.
Next stage, well, waiting for further feedback from the UKGC but they cannot help me get my money. I tried IBAS but they cannot help as they say it is a regulatory issue, which is dealt with by the GC. So, looks like it has to be the legal route. Can anyone recommend a solicitor in this field? I would have loved to have taken them to the small claims court, but alas the casino is remote and based in Malta so it can't be done, can it?
There you have it. Not a nice experience and may well get worse! You may say to just walk away from it, but nope, not this time!
Old Attachment (Invalid)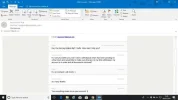 Last edited: