Chief glockenspiel maker


Joined

Jan 12, 2018
Location
I have some serious doubts about the legitimacy of VS. I do not play many games that are set at a lower rtp than I can obtain elsewhere. Yet about 18 months ago, I started noticing that my deposits weren't lasting anywhere near as long as they used to.
I thought, perhaps it's just bad luck but it just stayed that way. Then I started to notice it was getting progressively worse, if that was possible. Even when I had a win, it always seemed to be as if it was capped. I also hit my deposit limit 3 or 4 times in the past 12 months. Something which had never happened in the previous 6 years.
I have just come off the back of 50 odd consecutive losing deposits all at £15 a time. There were, iIrc, two occasions where my deposit went up to £50 and £70 respectively but I didn't withdraw it. All the others went downhill fairly rapidly.
I mean, that's some sort of bad luck, right. Well, I am not convinced it is. More than ever, I think games are cheating the player. Providers constructing games, whereby the rtp might be somewhere near advertised but is programmed in such a way that you might hit rtp but never achieve a withdraw-able balance.
To add some context to what I am saying, I checked the amount of money I have deposited at VS and when I have lost the majority.
In 7 and half years, I have lost £9,385.
What is remarkably noticeable is that, I am always careful with withdrawals and hardly ever play money back. My lifetime deposits are £47,330 and I don't play with a set limit on deposits but more, play for a certain amount of time at whatever deposits are required, if that makes sense.
Yet in the first 6 years, I only needed to deposit half of the lifetime total, to achieve the same gameplay as the last 18 months and in the last 18 months, I have lost double the amount, I did in the first 6 years. How is that even remotely possible, unless something has drastically changed?
Well, the obvious answer is, it isn't possible unless something underhanded is going on. My gameplay there has been utterly disgusting in that last 18 months but of course, with what had happened previously (decent gameplay/game time), you are led into thinking that at some point your luck will change and things will go back to normal.
This didn't happen though and the opposite did happen, my deposits lasted for less and less time, the bigger wins completely disappeared and I arrived at this point where I just had to question the point of even bothering to play any longer.
Think what you will folks (and this doesn't just apply to VS), all Casinos and providers are "at it", but if you think, you're being shafted, it's because you are, in no uncertain terms.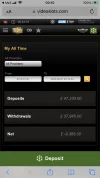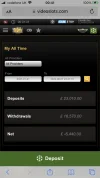 See Related Threads:
Bryan's super honest Videoslots Casino review is here.
Last edited by a moderator: