Joined

Jan 28, 2016
Location
So, as some will have seen, I'm not happy with
Videoslots
Ltd giving my data to
Mr Vegas
Ltd without my consent. Nor are some others. Videoslots and MrVegas are completely separate legal entities, and are not connected on paper, apart from using the same MGA license to operate.
Videoslots state this data sharing is done due to license requirements, AML regulatory requirements, and they do not need consent for these reasons. I dispute that. You still require consent to share with a third party company in most cases.
This was exactly how they replied to my first email.
Videoslots and Mr Vegas operate under the same gaming license and share certain information about our customers across our brands in order to comply with legal obligations under RG and AML. Thus, consent does not apply to such processing of personal data.
I asked which section of their license allows them to do this, and which section of the GDPR. No reply to the license, for the other, they replied
As we have explained to you before, the data that has been shared with Mr Vegas has been based on legal obligations in accordance with Article 6.1 (c) of the GDPR and not on consent.
so no mention of their license that time. That section of the GDPR states
Processing shall be lawful only if and to the extent that at least one of the following applies:
(c)processing is necessary for compliance with a legal obligation to which the controller is subject;
I have asked which legal obligation they are relying on. No reply.
This would possibly be a valid argument from Videoslots IF someone held an account with Mr Vegas. However, as they don't hold a UKGC license, then there is no cross license Responsible Gaming sharing of data needed, nor is there any AML data sharing required. UK customers cannot play at MrVegas, therefore there is absolutely no reason to share UK players Videoslots data with MrVegas.
So, I requested the following
Please supply full information on what data relating to me, has been shared with Mr Vegas Ltd, and also what data has been accessed by them. Please also supply a copy of my consent for you to do this.
That is quite specific, and relates to my concerns.
The DPO for Videoslots replied with a file showing that Videoslots have shared ALL my account data with MrVegas, all deposits, all withdrawals, gameplay, bonuses, failed logins, KYC documentation, battle entries, even trophies. Image below of the files (not the full data obviously). They didn't supply or mention the consent part I requested.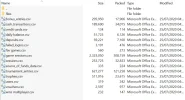 Even if I accepted that they had a legal obligation to share RG and AML sensitive information, with a third party company, who don't even operate within the UK, then how could 'trophies' (as an example) possibly have anything to do with either of those reasons.
Away from myself, and more general, some players who hadn't logged into their Videoslots account since the terms and conditions were updated to allow them to share data with Mr Vegas Ltd, got emails from MrVegas, inviting them to login and get a welcome bonus. How did MrVegas get existing Videoslot customers' email addresses to spam them with sign up offers, without consent from the players? Certainly, marketing emails are nothing to do with RG or AML, which is the sole reason Videoslots state they shared the data without consent.
Personally I don't think an accredited casino should be able to do what they have done.
Any affiliates who promote them should also be asking if player affiliate tags are being moved to MrVegas, as I've asked more than once, and not had a reply yet, which would lead me to presume, the answer is no.
@Casinomeister
@maxd
@Team.Videoslots
Last edited: