Joined

Jan 28, 2016
Location
Tried to use the betbuilder, bet £10 pre match, get £5 in play bet free.
For about the 10th football match in a row, I find my account is limited. Bear in mind I've never won on football there that I can remember, other bets have been limited to 13p, 57p etc, but today takes the piss.
Too scared to take a single penny on a 19/1 bet. How on earth can these take themselves seriously. A joke firm.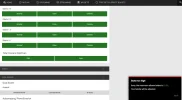 @Unibet Rep
you advertise £10 pre match with a £5 free bet, how do you get that if you don't accept £10 bets.
I also played about with the odds, did one that was around evens and max stake was £3.84, whats your max liability on a £10 bet, 80p or something.